US Asks Cuba for Greater Freedom in Private Sector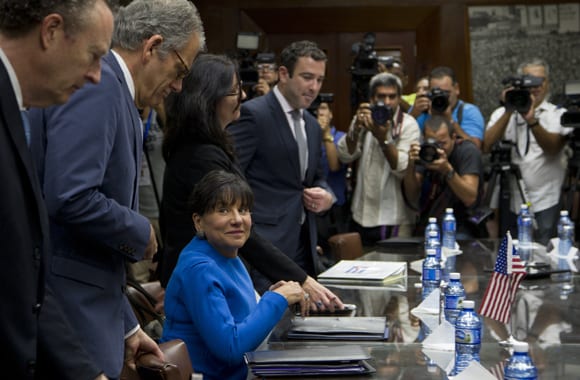 HAVANA TIMES — Today, US Secretary of Commerce Penny Pritzker asked for greater freedom for Cuba's emerging private sector within the context of the new commercial relations between the two countries, DPA reported.
The US government has again relaxed the embargo on Cuba, Pritzker commented during the opening of bilateral "regulatory talks" in Havana that seek to re-establish commercial and economic relations between the two countries after decades of conflict.
The impact had by the United States' measures, Pritzker underscored, "will be dependent on the Cuban government also taking certain steps to update its regulatory system and reform the economy in ways that support the continued development of a Cuban private sector."
"To that end, we urge President Castro and his government to make it easier for Cuban citizens to trade and travel more freely, to enjoy the fruits of their labor, to access the Internet, and to be hired directly by foreign companies," she added.
The US Secretary of Commerce arrived in Cuba on Tuesday, becoming the second member of Barack Obama's cabinet to visit the country since the two countries re-established diplomatic relations on July 20.
The aim of Pritzker's visit is to debate issues surrounding the United States' new economic and commercial policy and to analyze the limitations that continue to be imposed on both countries by the embargo.
The sanctions Washington imposed on the island in the early 60s can only be lifted by the US Congress, but Obama has relaxed a number of restrictions as part of his new Cuba policy, announced in December of 2014.
According to the Obama administration, this rapprochement seeks to promote change in Cuba through talks and cooperation. The socialist island has impelled a gradual economic reform process under the Raul Castro government in recent years.
Around half a million Cubans are no longer on the government payroll, following decades of State economic monopoly. The reforms have primarily benefited private activity in the food and services industries but have not yet reached higher professional spheres.
Foreign companies operating in Cuba – joint ventures in their majority – cannot hire their personnel directly, but are obliged to do so through a State intermediary.
"Specifically, we want to know how the import, export, and distribution of goods works in Cuba," Pritzker queried.
On Tuesday, the US Secretary of Commerce visited the Mariel Special Development Zone, 25 miles west of Havana, where the Raul Castro government seeks to draw foreign investment through tax prerogatives.
Prietzker later met with Cuban Minister for Foreign Investment Rodrigo Malmierco and announced plans to meet with Foreign Minister Bruno Rodriguez, as well as with Vice-President of the Council of Ministers Ricardo Cabrisas.