US College Students Cruise into Cuba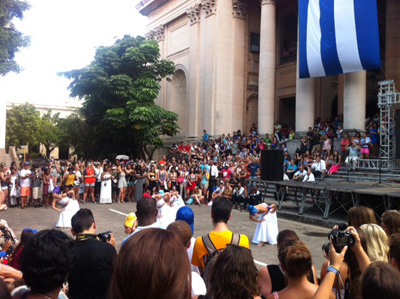 HAVANA TIMES — A total of 568 US college students on a 15-country semester at sea program arrived yesterday to Cuba aboard the MV Explorer cruise ship and were welcomed at the University of Havana.
The students, who had special permission from the US Treasury Department to visit Cuba, are from the Institute of Shipboard Education of the University of Virginia.
"It's a unique opportunity for the students to see the country and interact with locals," said Lauren Judge, the Institute's director of public affairs told NBC news.
Cuba wasn't originally on the itinerary, but when the Institute received a U.S. Treasury license allowing a visit to the island-nation in May, the organization decided to make a stop.
"The voyage was set to end in Fort Lauderdale," but after receiving the US Treasury license they "were able to add Cuba since we'd be going right near there," said Judge.
The people-to-people visit to Cuba will give the students a chance visit Cuban families in a Havana barrio, tour coffee and tobacco plantations and the chance to experience salsa dancing, local arts and a professional baseball game, noted NBC.
"It's an incredible experience for Americans to travel to a country that maybe they've only read about, and the opportunity for Cubans to meet Americans is uplifting for them," Tom Pepper, presdient of Insight Cuba, a lieading provider of people-to-people travel to Cuba told the network.