US Congress Delegation Visits Cuba to Deal with Alleged Attacks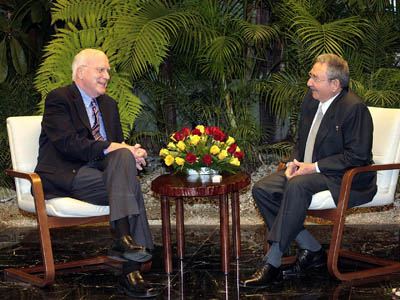 HAVANA TIMES – A delegation of six US senators and representatives are paying a visit to the island to discuss with Cuban authorities the supposed attacks suffered by US diplomats stationed in Havana, reported dpa news.
The group is headed by Vermont Democratic Senator Patrick Leahy, one of the greatest advocates of the thaw between Cuba and the United States that took place under President Obama.
Leahy has visited the island on several occasions. The last time was in February 2017, said Cuban state television. The representative from Florida, Kathy Castor, is also in Havana.
The agenda of the US politicians has not been made public, but a press conference by Leahy is scheduled to conclude his visit to the island on Wednesday.
Since the arrival at the White House of Donald Trump, tension has mounted between Washington and Havana, especially after the US government accused Cuba of failing to protect its diplomats who suffered mysterious acoustic attacks.
Cuba denied the accusations and offered to collaborate in the investigations, even accepting that an investigative team of the FBI enter the country, something unusual.
The crisis led the United States to expel a group of Cuban diplomats who worked in Washington and took out most of its personnel in Havana.
The tension has not reached a rupture of the diplomatic relations and for now the embassies of both countries are maintained. These were reopened in 2015 after decades of confrontation as former President Obama decided to promote rapprochement.