US Congress Reps on Cuba Visa Policy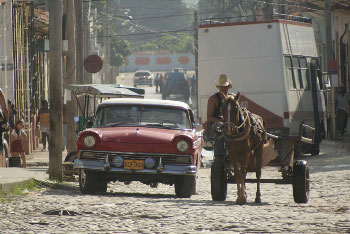 HAVANA TIMES — Nine members of the US House of Representatives urged the Obama administration to be consistent in its policy for granting visas to Cuban officials and academics invited to events and meetings in the USA.
In a letter to the White House, the representatives praised the recently held meeting at the US State Dept. between Assistant Secretary of State for Western Hemisphere Affairs Roberta Jacobson and Josefina Vidal, head of the United States Section at Cuba's Foreign Ministry.
The congress people expressed their appreciation for the granting of a visa to Vidal to be able to attend the meeting.
They also made reference to the need to negotiate the release of Alan Gross, the Maryland resident sentenced to 15 years imprisonment in Havana for endangering Cuban national security with his covert USAID funded attempt to set up illegal communications networks.
Another issue mentioned in the letter was the denial of visas to Cuban scholars to attend the recent Latin American Studies Association conference in Washington.
The following is the text of the letter to the Obama administration from the Congress reps.
John Kerry Secretary of State
U.S. Department of State
2201 C Street, NW
Washington, D.C. 20520-0099
Dear Secretary Kerry:
As Members of Congress committed to supporting greater openness and engagement in U.S.-Cuban relations, we write to urge the State Department to articulate a consistent policy in granting visas to both Cuban officials and academics.
The president's decisions to restore travel rights to families of Cuban descent and to reopen categories of people-to-people travel were welcome breaks from past policies that isolated our two countries. In practical ways, as it ruled on applications for visas by Cubans, we have seen and supported a commitment by the State Department to encourage meaningful exchange by allowing Cuban officials, scientists, and others to visit the United States.
We especially appreciate your willingness to brave the controversy and grant a visa to Ms. Josefina Vidal, head of the United States Section at the Cuban Foreign Ministry, so that she could come to the State Department, meet with Assistant Secretary Roberta Jacobsen, and discuss issues that divide our countries. It is hard to imagine, for example, how the administration could negotiate for the release of Alan Gross, imprisoned in Cuba since December 2009, without enabling diplomatic counterparts to discuss how his case could be resolved, he could be freed, and reunited with his family.
To some, this was a "concession to the Castro regime." To us, this was a pragmatic and humanitarian decision, as well as recognition of reality, and a demonstration of the appropriate means for restoring his freedom.
It therefore seemed inconsistent to us when the Department recently denied visas to a dozen Cuban academics, many renowned scholars who had previously been permitted entry into the United States, for what appear to be arbitrary reasons. They were invited to Washington for the annual meeting of the Latin American Studies Association, where they could have interacted with other capable scholars in their fields and been exposed to the freedom of association for which our nation is known. We would like to understand the criteria you use for deciding which Cuban academics to exclude from important conferences of this kind.
Signed by the following House of Representatives members:
Rosa L. DeLauro
James P. McGovern
Barbara Lee
Sam Farr
Kathy Kastor
Janis D. Schkowsky
Donna F. Edwards
Richard M. Nolan
Charles B. Rangel