US Embargo on Cuba Rejected 191-2 at UN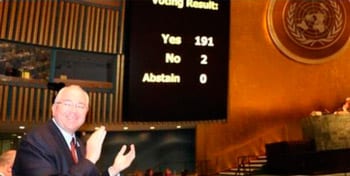 HAVANA TIMES — The United States and Israel were once again the only countries to vote against a UN resolution condemning the embargo imposed for over a half century by Washington on Cuba, reports dpa news.
For the twenty-fourth consecutive year Cuba took its case against the embargo to the UN via a non-binding resolution.
With the newly re-established diplomatic relations between the two former enemies, there had been speculation that the Obama administration would abstain.
However the US voted against the resolution accompanied by Israel, while the other 191 UN member countries, a record number, were against the economic, commercial and financial embargo the United States maintains on the island.
A possible US abstention was seen as a symbolic gesture, since it is the Congress that has the power to lift the embargo. President Obama has already expressed his desire the embargo be lifted and has taken steps to relax certain aspects of it since December last year when the two countries announced they would resume relations, broken off in 1961.
The US justified its decision to oppose the resolution saying that the text of the resolution did not reflect "the significant steps that have been taken and the spirit of compromise" that now exists, said the US representative at the General Assembly, Ronald Godard.
"If Cuba believes that this exercise helps get things moving in the direction that both governments have indicated they want, they are wrong," said Godard.
In introducing the resolution, Cuban Foreign Minister Bruno Rodriguez said the text reflects recent developments and welcomes the new course of relations between the US and Cuba, formally resumed in July.
"The US government announced a new policy toward our country, but the measures taken by the administration, whilst positive, only very partially modify some elements related to implementing the blockade," said Rodriguez.
Ali Khoshroo, Iran's ambassador to the UN, spoke on behalf of the Non-Aligned Movement, a group of 120 countries that does not support any political bloc, and condemned the US position that contradicts international law and the UN Charter .
"The continuation of the embargo is totally unjustified and against Cuba's efforts to achieve a sustainable development," Khoshroo said.
Last year, 188 of the 193 UN members voted against the embargo. This time, the Marshall Islands, Micronesia and Palau, who abstained in 2014, voted in favor of the resolution, leaving the United States and Israel as the only countries in opposition.