US Expels Two Venezuelan Diplomats in Tit-for-Tat with Maduro
By Sara Barderas (dpa)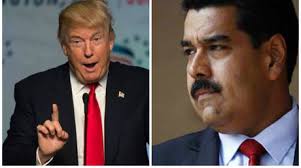 HAVANA TIMES – The United States responded to the expulsion of two of its diplomats ordered by Venezuelan president Nicolas Maduro with a reciprocal measure. On Wednesday, the State Department gave the charge d'affaires of the Venezuelan embassy in Washington and the vice-consul in Houston 48 hours to leave the country.
"This provocation will have a quick response," vice president, Mike Pence, had advanced on his Twitter account in the morning. Less than 12 hours later, the measure arrived.
The United States and Venezuela have no ambassadors in the respective capitals since 2010. The charge d'affaires of the Venezuelan embassy, ??Carlos J. Ron, is the highest ranking diplomat in that legation. He occupies the same position and has the same hierarchical level as the Todd Robinson for the US in Caracas, expelled from the country by Maduro with the deputy chief of the mission, Brian Naranjo.
"We will respond appropriately and reciprocally, but also perhaps proportionately," Secretary of State Mike Pompeo had promised early in the morning during a congressional hearing. With the expulsion of Ron and the vice-consul of Houston, reciprocity is fulfilled.
The two received 48 hours to leave the United States, the same time that Maduro gave the two US diplomats on Tuesday. The Venezuelan president threw them out accusing them of conspiracy.
"The accusations of the Maduro regime are unjustified," the State Department said again today. "They have performed their official duties responsibly and consistently with the diplomatic practices and the applicable provisions of the Vienna Convention. We reject any suggestion to the contrary."
The expulsion of the US diplomats came a day after Donald Trump imposed a new round of financial sanctions – the third of his presidency against Venezuela – in response to Sunday's presidential elections there, which the US government calls a "farce."
Maduro was re-elected on Sunday for another six years in an election to which only 46 percent of the electorate went to vote -according to official data. The elections were rejected by the majority of the international community.
The main opposition leaders could not participate due to being banned or being in exile or serving a prison sentence and the only opponent who did it, Henry Falcon, denounced fraud.
Trump signed an executive order on Monday to limit the Venezuelan government's ability to sell state assets, including public debt and bonds of Venezuela's state oil company PDVSA.
The US president has also imposed over the last year several rounds of individual sanctions that already reach more than 50 officials of the political environment of Maduro, including the Venezuelan president himself.