US Praises Cuba's Counter-Narcotic Cooperation, Criticizes Venezuela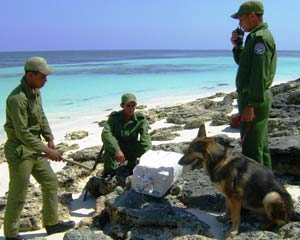 HAVANA TIMES — The United States praised the Cuban government's cooperation in the battle against drug trafficking while leveling harsh criticisms at Venezuelan authorities for their inefficiency in combatting the crime.
The 2015 International Narcotics Control Strategy Report made public by the US State Department on Wednesday clearly reflects the new panorama of relations with Cuba, contrasted by the tensions straining today's ties between Caracas and Washington.
The report documents and analyzes the situation of drug trafficking and the willingness of governments to confront the problem in 82 different countries. Cuba is referred to in four paragraphs, while Venezuela takes up five pages of the report.
Praise for the Neighbor
"Cuba concentrates supply reduction efforts by preventing smuggling through its territorial waters, rapidly collecting wash-ups, and conducting thorough airport searches," the report points out.
The document mentions that, during 2013, the "Cuban government reported interdicting a total of 1.5 metric tons of illegal narcotics, 98 percent of which washed up on Cuba's shores. Cuban customs also reported disrupting 43 smaller smuggling operations at airports, seizing a total of 30.45 kilograms of narcotics."
In addition, the document reports that Cuban "Authorities sanctioned 628 individuals on drug-related charges, 273 of whom received sentences ranging from six to 10 years."
"The Cuban Border Guard (TGF) continues to patrol Cuban waters and TGF notifications to US authorities of maritime smuggling incidents are timely and detailed," the report says in connection with bilateral cooperation in regional efforts against drug trafficking.
Venezuela, a Drug Transit Country
In recent years, the State Department international narcotics report has acknowledged the cooperation of Cuban authorities in anti-drug efforts, while other reports on Havana's record in areas such as terrorism, human contraband and religious tolerance continue to be harshly critical.
With respect to Venezuela, the report claims that it continued to be a major drug transit country in 2014.
"Venezuela is one of the preferred trafficking routes for illegal drugs from South America to the Caribbean region, Central America, the United States, Western Africa, and Europe, due to its porous western border with Colombia, weak judicial system, sporadic international counternarcotic cooperation, and a permissive and corrupt environment," the 328-page report states.
The report claims Venezuelan authorities do not combat drug trafficking effectively owing to political corruption and adds that Caracas' counter-narcotic cooperation has been very limited and sporadic since 2005, when the government of Hugo Chavez refused to sign a memorandum of understanding with the United States.