US Wants to Force Feed Cuba with Free Internet
HAVANA TIMES – The United States announced on Tuesday the creation of a team to promote "free and unregulated" Internet access in Cuba, the State Department said in a statement, reports dpa news.
The so-called Cuba Internet Task Force "will examine the technological challenges and opportunities to expand access to the Internet and independent media" on the island, added the text released today.
Presently in Cuba Internet is expensive related to the low salaries and none of the hundreds of WIFI hot spots set up in the last couple years in parks and other public areas are free. A previous offer for free Internet from Google was rejected by the country's leaders who prefer stricter controls and benefit from the state monopoly that charges for connecting.
The first meeting of the task force will be on Wednesday, February 7 at the State Department.
The measure is part of the guidelines of the new policy towards Cuba that US President Donald Trump announced on June 16th of last year at an event in Miami.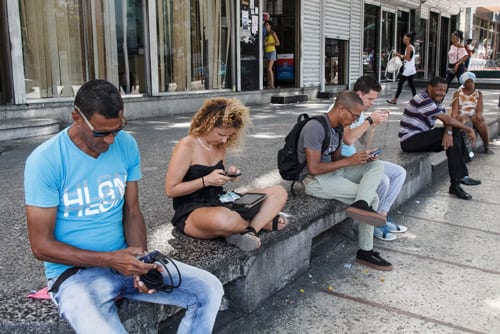 "I am canceling the completely unilateral agreement with Cuba of the previous administration," Trump said at that time, alluding to his predecessor, Barack Obama. "Today I announce a new policy as promised during the campaign."
Among other measures, Trump then announced the renewed limitation of travel of United States citizens to the island to prevent any possibility of tourism. However at this time, people from the US can still legally travel to Cuba in more structured group educational and cultural tours.
Washington also seeks to prevent US funding from reaching the government of Raul Castro by forbidding US companies from doing business with companies in the hands of the Cuban armed forces.