USA Falls 5-2 to Cuba in Havana
Circles Robinson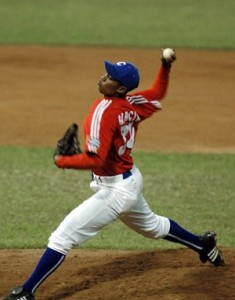 HAVANA TIMES — Cuba's national baseball team won its third straight exhibition game against the USA university selection on Sunday afternoon in Havana by a score of 5-2.
The five games series is the first time in 16-years that such games are being played.
Unlike Friday and Saturday when Cuba came from behind 7-6 and 9-8 with ninth inning heroics, the islanders jumped out to a 2-0 lead, with a run in the first on an RBI single by Frederich Cepeda, and Rusney Castillo scored on a wild pitch in the third.
Cuba took a 3-0 lead with a solo homer from Cepeda in the fifth inning.
Meanwhile, Cuban starter and winning pitcher Freddy Asiel Alvarez was air tight taking a no hitter into the seventh inning when he finally gave up two singles, but got out of trouble unscathed.
In the eighth, with Freddy Asiel out of the game, Norberto Gonzalez got the first out and in came Dalier Hinojosa who ran into trouble leaving two runners in scoring position with two out for the third reliever, Pablo Millan Fernandez.
Millan gave up a two-run double to Johnny Field, putting the game at 4-2, but then retired the dangerous D.J. Paterson to end the inning. In the ninth he cruised 1-2-3 to pick up the save, his second of the series.
In the top of the eighth William Luis Campillo had came on to pinch hit and for the third consecutive day of  successes, drove in Cuba's fourth run.
Commentators noted that Luis Campillo, from Camaguey, has clearly earned a spot on Team Cuba for the upcoming Haarlem Baseball Week Tournament in Holland that runs July 13-22. He drove in the winning runs on Friday and Saturday coming off the bench in the final inning.
With the hosts ahead three games to one, the final game of the USA-Cuba series is scheduled for 8:00 p.m. on Monday night with Odrisamer Despaigne set to start for Cuba and highly touted lefty Carlos Rondon expected to get the call for the USA.
The game can be seen live on Cubavision Internacional Internet TV. Click on "TV en vivo"