Venezuela Aid Deliveries Amid Heavy Violence
By Sinikka Tarvainen, dpa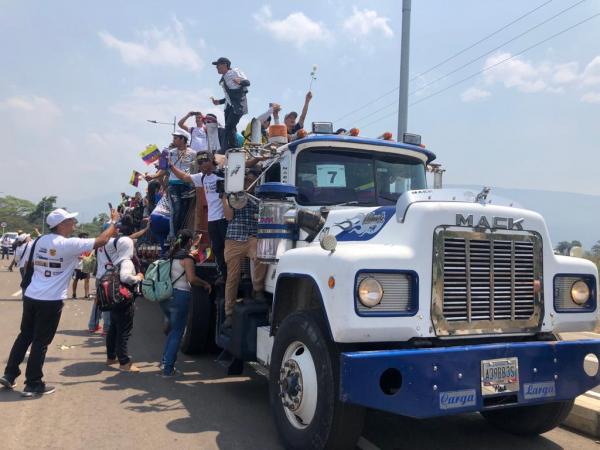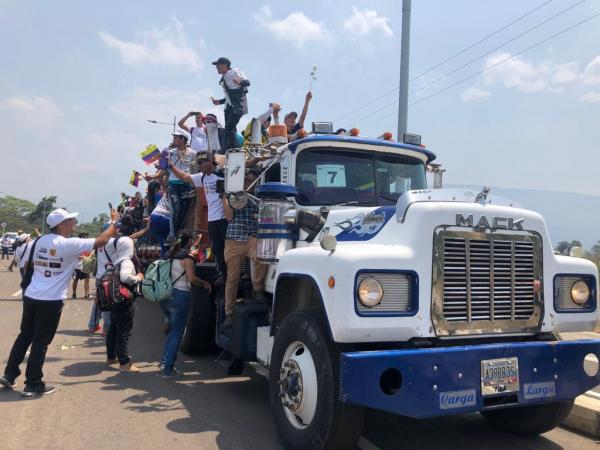 HAVANA TIMES – The Venezuelan opposition and Colombia on Saturday launched an operation to take humanitarian aid to Venezuela while clashes between soldiers and pro-aid demonstrators raged on the Venezuelan side of the border.
Colombian President Ivan Duque officially handed aid supplies over to Venezuela's self-declared interim president Juan Guaido in the border city of Cucuta, where hundreds of tons of food and medicine donated mainly by the United States have been stored.
"We demand that [the aid] is allowed to enter Venezuelan territory peacefully," Duque said. "To prevent it … could constitute a crime against humanity."
Duque and Guaido called on the Venezuelan army to be "on the right side of history" and to let the aid through.
They were accompanied by Chilean President Sebastian Pinera, whose country has also donated supplies to Venezuela.
Guaido says hundreds of thousands of Venezuelans are in urgent need of food and medicine. But President Nicolas Maduro, who has resisted pressure to resign, regards the aid as a US plot to topple him, and does not want to let it in.
Venezuelan National Guard soldiers clashed with demonstrators in the city of Urena on the other side of the Cucuta border, using tanks and tear gas, Colombian broadcaster Caracol said. Dozens of people were reported injured.
Soldiers set on fire a bus which had been due to take volunteers to the Colombian side to help distribute aid supplies, according to the report.
Unrest was also reported in other places. Broadcaster TN showed footage of civilians facing off against heavily armed soldiers while fires burned on the border.
Four Venezuelan National Guard members guarding the border meanwhile heeded Guaido's call to defect, according to a spokesman of Colombia's migration authority.
[pullquote]
Maduro severs diplomatic relations with Colombia
Venezuela is breaking off diplomatic relations with Colombia, President Nicolas Maduro said on Saturday.
Caracas gives the country's diplomats 24 hours to leave, Maduro said during a pro-government demonstration in Caracas, according to Venezuelan newspaper El Universal.
Venezuela earlier severed relations with the United States, with which Colombia is closely allied.
[/pullquote]Three of them crossed the Simon Bolivar bridge, which links Venezuela with Colombia, after using a tank to escape, the spokesman said. He denied reports that the tank had seriously injured several people after hitting a crowd.
A fourth soldier then deserted on another border bridge. There is a lot of discontent within the National Guard, he told the weekly Semana, adding that other soldiers might follow his example.
It was not clear how the aid supplies would enter Venezuela after the government temporarily closed three border bridges. A fourth one, the Tienditas bridge in Cucuta, has been blocked by containers and other obstacles.
An opposition representative told broadcaster 24 Horas that volunteers would form human chains to pass aid packages across the border.
Thousands of mostly Venezuelan volunteers formed such a chain on the Simon Bolivar bridge, waiting for aid trucks to come in and hoping to break through the army blockage, broadcaster Caracol reported.
If the human chains do not work, supplies could be transported through dozens of illegal border crossings, according to Caracol.
In Brazil, the first trucks transporting aid were arriving at Pacaraima on the Venezuelan border. They were accompanied by police on their way from state capital Boa Vista, carrying several tons of food and medicine.
Guaido, whom dozens of countries have recognized as Venezuela's interim leader, says 300,000 people are at risk of death due to acute shortages of food and medicine.
Maduro has presided over a massive economic crisis, with annual inflation running at millions of per cent, while more than 3 million Venezuelans have fled abroad.
The president won an election boycotted by most of the opposition last year. The National Assembly, which is headed by Guaido, wants him to resign and to call a fresh poll.