Venezuela Opposition Successfully Concludes Signature Validation Process
To go forward with a recall referendum campaign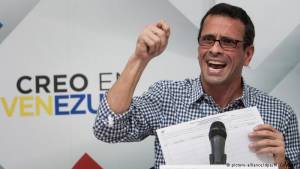 HAVANA TIMES – The Venezuelan opposition announced on Friday that at the end of the week-long process to validate signatures calling for a referendum against President Nicolas Maduro, a total of 409,313 voters reaffirmed their will for the consultation, reported dpa.
Opposition leader Henrique Capriles announced that after five days of validation, in all 24 regions of the country, they far exceeded the one percent of the electoral rolls required.
"The national validation total, despite the obstacles and the excluded, is 409,313 signatures. The recall vote will be in 2016", he announced when presenting the final report on this phase of the process.
The opposition required at least 195,721 verified signatures, or one percent to formalize the request for a recall referendum.
Capriles said many of the 1,352,021 voters who had signed did not go to validate their signatures because in the early days of validation they had already reached the minimum number.
"Despite all the obstacles and everything that happened and all the people left outside still waiting, we more than doubled the figure required by the National Electoral Council (CNE)," said the opposition leader, whose signature was among hundreds of thousands excluded by the CNE from the process validation.
Capriles noted that the obstacles put up by the CNE officials for people wanting to ratify their desire for political change deserves an "international record."
"This is what those of us who want a peaceful, democratic and electoral change in Venezuela have to deal with. Nevertheless, we overcame the obstacles [put forth by the CNE]", he noted in criticizing the requirement of one percent to put in motion an effort to force for a referendum.
"We decided to move forward despite all this because we do not fear the people. We know we have the strength to move forward. More than twice the required signatures were achieved in all states. The figure achieved is well above what is required" he said.
Now, the CNE must formalize the figure and then authorize the new collection of signatures, a second phase in which four million, or 20 percent of the register voters, must sign to enable the referendum.
"Twenty percent are four million signatures across the country. In the 20 percent there is no possibility to exclude anyone because it is direct with the machine," he said in relation to the method of validation of signatures via machines to capture fingerprints.
The executive secretary of the opposition alliance known as Mesa de la Unidad Democrática (MUD), Jesus Torrealba, highlighted the civic nature of the validation process.
"This has been a huge popular victory. We surpassed one percent throughout Venezuela, and the extras were a strategic reserve for the validation of signatures," he said earlier.
Maduro rejects the idea of a recall referendum which he says is "an option, not an obligation." Meanwhile, he said he would file several lawsuits against the MUD for allegedly falsifying the 600,000 signatures that were invalidated by the CNE.