Venezuelan Attorney General warns that Maduro's Constitutional Assembly will void the Constitution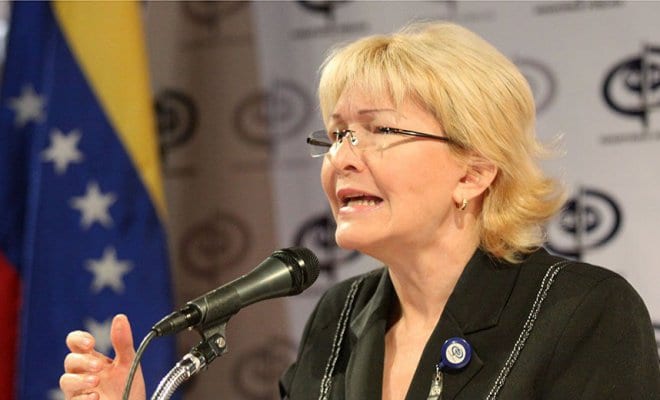 HAVANA TIMES — Venezuela's Attorney General, Luisa Ortega Diaz warned on Tuesday that the Constitutional Assembly planned by President Nicolas Maduro, will leave the Constitution, which has been in effect since 1999, void.
"A Constitutional Assembly is hanging over the country which will void the Constitution, which doesn't make a lot of sense. If they want to change the Constitution, it's because they want to hide injustices. People are being forced to vote for a Constitutional Assembly. Venezuela is going through a dangerous and dark time," she said in a statement at the Public Ministry that she heads.
Ortega, who is the subject of a legal hearing which seeks to remove her from her attorney general's position, spoke about the Public Ministry situation, whose powers are being taken by rulings from the Supreme Court of Justice (TSJ).
To that effect, she said that Public Ministry functions are being given daily to different government institutions.
"It's mandatory that the Constitution be respected. However, it is constantly being violated in Venezuela. I want to make an urgent call to all Venezuelans to reflect upon the Constitution," she emphasized.
The Attorney General has urged the Venezuelan people to oppose the Constitutional Assembly and has promised that she will attend to complaints from public employees, in her office, who are pressured into voting against their will on Sunday in the election that will decide the 545 members of the Constitutional Assembly.
"I am asking the Venezuelan people to stand with me and demand justice. As of Friday, there will be an office where public officials can report if they are being forced to vote. They want to use political violence as a means to resolve problems here," she claimed.
Meanwhile, she questioned the actions of the Supreme Court, which she labeled as the "main usurper of the National Assembly's powers."
She added that injustices are being committed in the penal system "just because you are a political enemy".
Ortega also mentioned the arrest of the appointed judge who had been sworn in by the National Assembly, Angel Zerpa, who was arrested by the Police and accused of misappropriation of his functions and betraying the country. [Two other judges have now been arrested].
She pointed out the fact that the Police are arresting people "with no legal process", even though the State should be ensuring their "conditions of arrest".
"Neither the Public Ministry or his family have had access to him (Zerpa), abusing his rights," she denounced.
Zerpa was among the 13 sitting judges and 20 substitutes who were appointed to replace this same number of current Supreme Court judges, who are being questioned about their allegedly irregular appointments by the executive in December 2015, just before the new National Assembly, which is controlled by an opposition majority, took office.