Venezuelans Demand Maduro Resign and Plea for Humanitarian Aid
By Sinikka Tarvainen (dpa)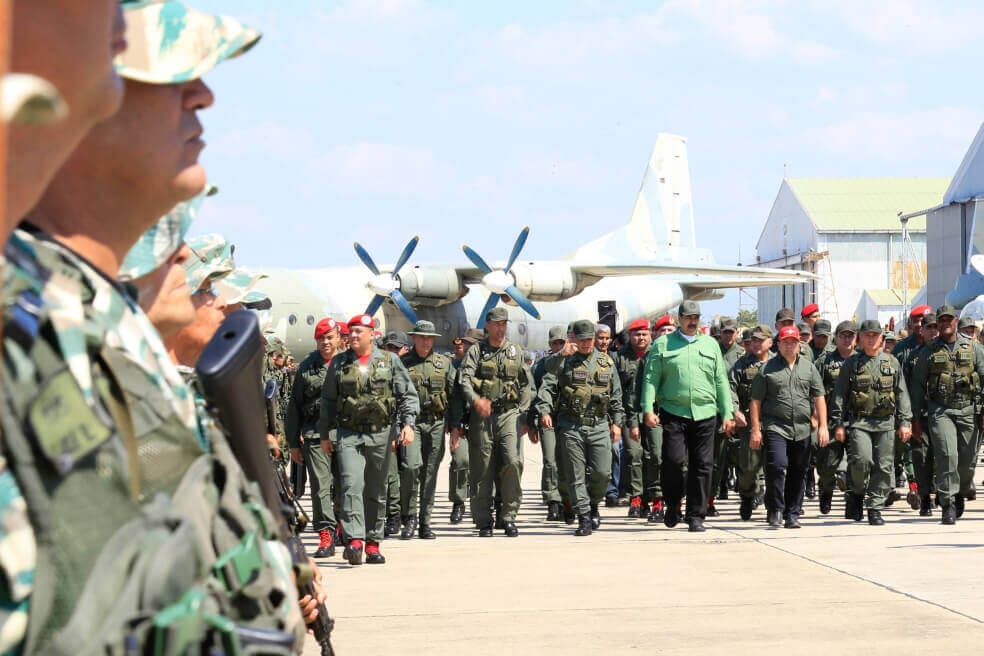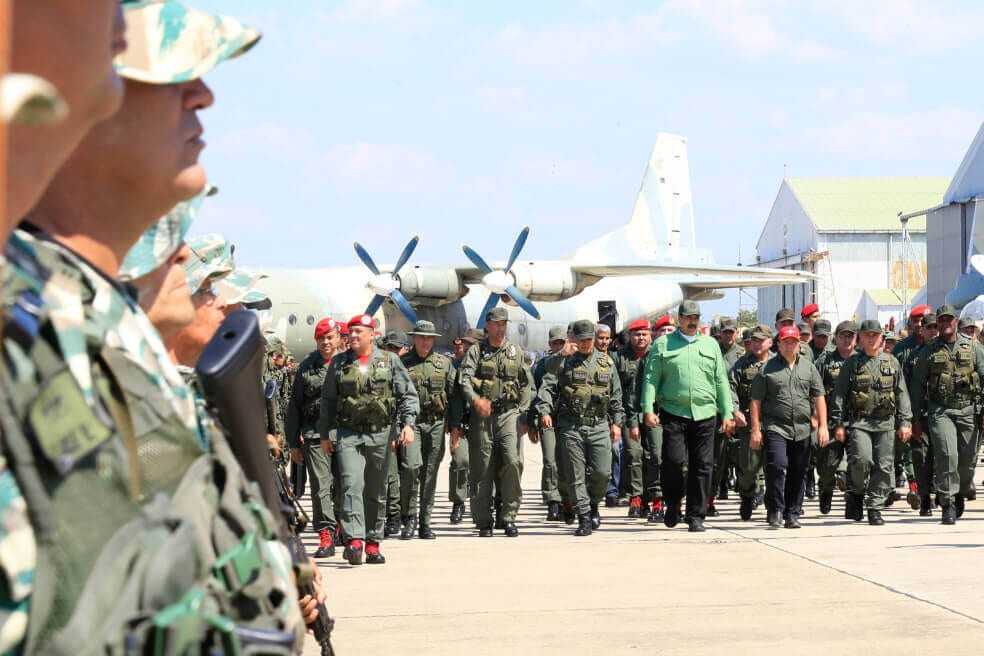 HAVANA TIMES – Venezuelans took to the streets of their country on Wednesday, launching a fresh round of protests to pressure President Nicolas Maduro to step down and spur the army to allow the entry of humanitarian aid from the United States.
Maduro told Russian media earlier in the day that he was willing to talk to the opposition, but the comments did nothing to quell the demonstrations that were called by Juan Guaido, speaker of the opposition-controlled National Assembly.
Guaido declared himself the country's interim president during nationwide protests a week ago.
Wednesday's rallies in Caracas and elsewhere were smaller, though large crowds were reported in some places.
"We are being sentenced to death for lack of medicine," read one of the placards carried by demonstrators. Some waved Venezuelan flags, while others wore caps in the national flag colours in the capital.
Guaido attended a protest rally at a university in Caracas, calling the country "a dictatorship."
"[The regime] thought the Venezuelan people would get frightened … but today we are on the street," he said, according to the daily El Nacional.
More protests are planned for Saturday, aimed in part at winning over the army, which has so far sided with Maduro but is reportedly divided.
Earlier in the day, Maduro met soldiers participating in a military exercise in Caracas in what the broadcaster Telesur described as an attempt to demonstrate the army's power and loyalty to the government.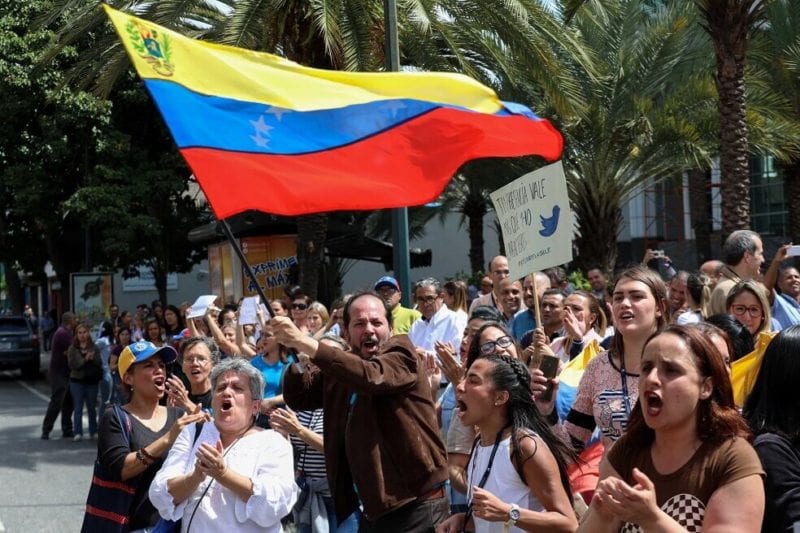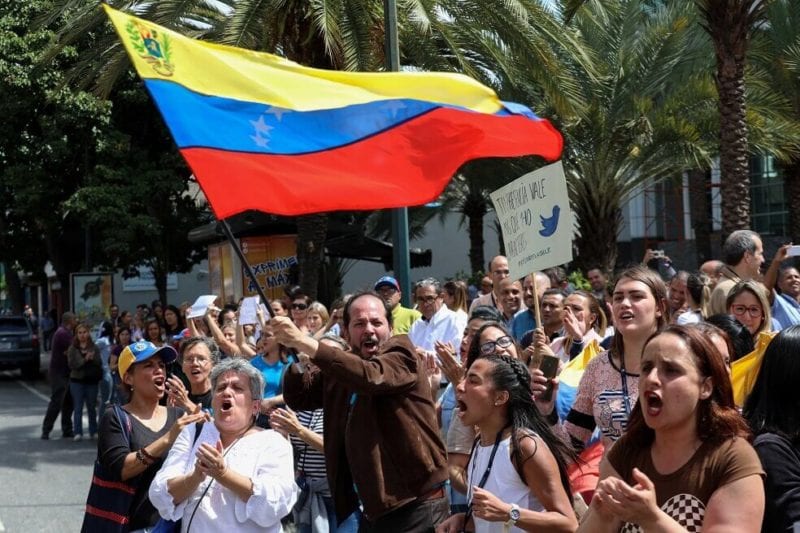 The president called on the military to guarantee that "North American imperialism" would never enter Venezuela, and that unity would prevail in its ranks.
US President Donald Trump spoke by phone with Guaido and vowed to "support Venezuela's path back to stability."
The United States has recognized the 35-year-old as Venezuela's legitimate leader, as have several other Western nations and the Organization of American States (OAS), a league of 35 countries.
US National Security Adviser John Bolton cautioned businesses not to deal in commodities "stolen" by Maduro's allegedly corrupt regime.
"My advice to bankers, brokers, traders, facilitators, and other
businesses: don't deal in gold, oil, or other Venezuelan commodities being stolen from the Venezuelan people by the Maduro mafia. We stand ready to continue to take action," he tweeted.
Bolton also commented on sanctions the US announced against Venezuela's national oil company Petroleos de Venezuela (PDVSA) earlier this week.
By sanctioning the PDVSA, "the United States has also sanctioned Nicaragua's ALBANISA, the government's joint venture with PdVSA and slush fund of the corrupt regime of [Nicaraguan President] Daniel Ortega," Bolton tweeted.
The Venezuelan opposition has urged Washington to investigate Maduro's ties to Ortega's government and to Albanisa, which is owned jointly by the PDVSA and its Nicaraguan counterpart Petronic.
The Kremlin meanwhile shrugged off rumours that Russia was set to receive a surreptitious delivery of 20 tonnes of gold from Venezuela.
"There is no such information," Kremlin spokesman Dmitry Peskov said in comments carried by Russian state news agency TASS.
Colombia meanwhile barred more than 200 Maduro collaborators from crossing the border into its territory, the director of the country's migratory authority said.
The ban forms part of measures against the Maduro regime that are being taken by the Lima Group of American countries that supports Guaido, Christian Krueger Sarmiento said in a statement.
In an interview published on Wednesday, Maduro told Russian state news outlet RIA Novosti he was prepared for talks.
"I am ready to sit at the negotiation table with the opposition so that we can speak for the benefit of Venezuela, for peace and for [Venezuela's] future," he said.
The offer came after Maduro's regime stepped up pressure on Guaido, with the Supreme Court on Tuesday banning him from leaving the country and ordering his bank accounts frozen.
Critics say Maduro's re-election last year was not legitimate and accuse him of becoming increasingly authoritarian. He has also presided over an economic disaster as annual inflation has reached nearly 2 million per cent.
Millions of people have fled the country to escape food and medicine shortages and political unrest.
The US has pledged 20 million dollars in humanitarian aid at Guaido's request.
Maduro rejected calls for a new presidential election to be held and blamed the political turmoil on Trump. "There's no doubt that Donald Trump had ordered to kill me. He told the Colombian government and the Colombian mafia to kill me," Maduro told RIA Novosti.
Colombia denied claims made by Maduro late last year that it was cooperating with the US to train mercenaries in preparation for an attack against the Venezuelan government.