Venezuelans Storm Border as Colombia Warns Russia
By Sinikka Tarvainen and Peter Spinella (dpa)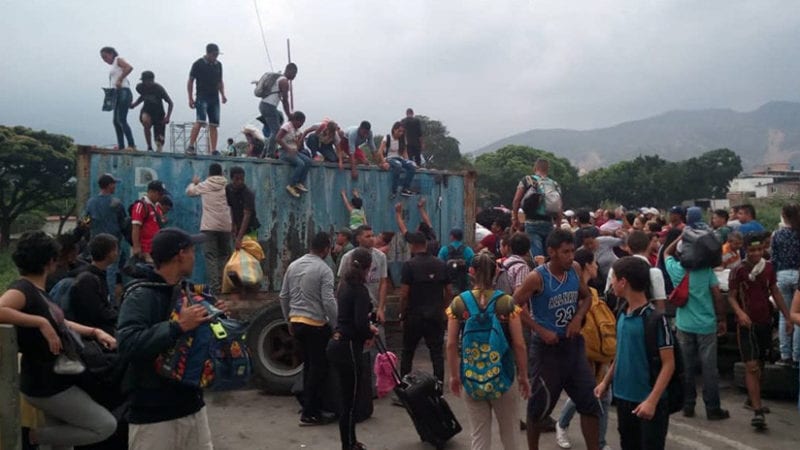 HAVANA TIMES – Hundreds of Venezuelans desperate for food and services stormed the Colombian border on Tuesday, while Bogota indirectly warned Russia against a military deployment in support of Venezuela's embattled president, Nicolas Maduro.
Parliament speaker Juan Guaido, whom dozens of countries have recognized as the country's interim president, is trying to persuade the public sector and the army to support his attempt to oust Maduro, who won a second term in a contested election last year.
The country has plunged into an economic crisis and some citizens have had to make difficult decisions.
Also read this post: Will Maduro Arrest Guaido? US, Russia are Watching
They broke through blockades formed by their country's National Guard and climbed over containers that the army had used to block the Simon Bolivar bridge, which crosses from Venezuela into the Colombian border city of Cucuta, according to Colombia's migration authority.
Venezuela closed border crossings in the area in February to prevent the entry of humanitarian aid, which Maduro regards as a pretext for a US military intervention to oust him from power.
But Venezuelans have constantly been crossing the border through unofficial paths and the river Tachira, where the water level has now risen, preventing them from using that route.
"The situation is very difficult, we have endured hunger, we have no electricity or water … We therefore come in desperation to seek food in Colombia," one of the Venezuelans told daily El Tiempo.
Many Venezuelans also come to work on the Colombian side of the border.
Christian Krueger Sarmiento, who heads Colombia's migration authority, accused Maduro of fuelling illegal migration and of putting migrants' lives at risk by blocking the border.
"There is no way to stop people who are hungry, who are dying for lack of medicine, people who are in agony because the state does not provide them with basic public services," Krueger Sarmiento said.
About 1,000 members of the security forces have also defected to Colombia, a US ally which has played a prominent role in the international campaign in support of Guaido. But the vast majority of the army has remained loyal to Maduro.
A group of retired army and police officers on Tuesday sided with Guaido, daily El Nacional reported. The officers, whose number was not given, swore loyalty to the self-declared interim president.
Venezuela's opposition-dominated National Assembly, which Maduro has stripped of power, was due to approve a law on Tuesday offering guarantees to public sector employees in the face of pressure to support the government.
Colombia rejects Russian involvement
Colombia meanwhile criticized a Russian warning against attempts to oust Maduro, while cautioning that any military support to the regime in Caracas would threaten peace in the entire region.
In a statement issued by Foreign Minister Carlos Holmes Trujillo, the Colombian government said it "emphatically rejects" a declaration issued by Russia's parliament in late February.
The declaration called upon the United Nations to support a political peace process in Venezuela and prevent any foreign military intervention in the crisis-stricken South American country.
Holmes Trujillo said the "accusations" contained in the declaration "do not correspond to reality and constitute a distortion of Colombia's position, shared by several countries of the region."
A democratic transition in Venezuela needs to be "carried out by Venezuelans themselves … without the use of force," the statement added.
"[Any] military deployment or incursion in support of Nicolas Maduro's regime puts the democratic transition at risk" and "constitutes a threat to peace, security and stability in the region," the minister warned.
Russia has admitted to providing military "specialists" to the Venezuelan government as it proceeds with defence industry contracts in the country.
Meanwhile, Luis Almagro, secretary general of the Organization of American States (OAS), tweeted that he held the Venezuelan government responsible for "what could happen to" journalist Amanda Umek, who went missing on Saturday "after publishing information on corruption of the regime."