Venezuela's Maduro Makes Lightening Visit to Fidel Castro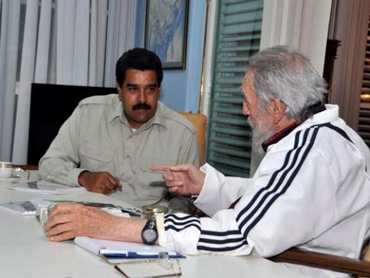 HAVANA TIMES — In difficult or decisive moments of his administration, former Venezuelan president Hugo Chavez would visit his mentor Fidel Castro. History appears to repeat itself with his hand-picked successor Nicolas Maduro, who made an unannounced trip to Havana to meet with the Cuban leader on Tuesday February 17.
Maduro also met with the current Cuban president Raul Castro, reported the official Cubadebate website on Thursday.
"I was in Cuba (…) I took advantage of it being Carnival Tuesday and visited Commander Fidel Castro Ruz, who sent his greetings to the people of Venezuela," said Maduro Thursday night on television.
Without mentioning if they talked about the economic crisis or shortages of basic products facing Venezuela, or his accusation this week that the United States and the Venezuelan opposition were planning a coup, Maduro said: "We talked about the world, about peace, about climate changes; we conversed on many topics."