Weather in Havana, July 11-17
Rain on Saturday and evenings

Eduardo A. Fernandez Diaz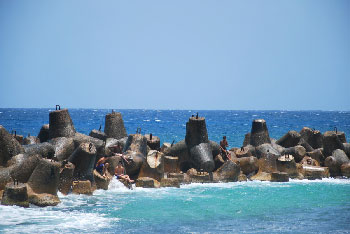 HAVANA TIMES — Rain is expected on Saturday as a result of the passing of the tropical wave that had been tropical storm Chantal. Generally, there will be good weather after Saturday, with some rain in the afternoon after the heating up during the day. Temperatures will be relatively high.
Maximum temperatures average 31 ° C (88 F) and the minimum will remain stable at about 24 ° C (75 F).
The winds will be variable weak. The temperature of the sea surface will reach 28 ° C (82 F).
The tropical wave that became Chantal has virtually no chance to organize again, though it will provide abundant rainfall passing through the country and on Saturday in the capital.
Thursday, July 11, max 32°C (90 F) min 24°C (75 F)
Scattered rain
Viernes, July 12, max 32°C (90 F) min 24°C (75 F)
Scattered rain
Saturday, July 13, max 30°C (86 F) min 23°C (73 F)
Scattered rainLluvias aisladas
Sunday, July 14, max 31°C (88 F) min 24°C (75 F)
Rain in the afternoon
Monday, July 15, max 32°C (90 F) min 23°C (73 F)
Rain in the afternoon
Tuesday, July 16, max 32°C (90 F) min 24°C (75 F)
Rain in the afternoon
Wednesday, July 17, max 33°C (91 F) min 24°C (75 F)
Rain in the afternoon