Wife of US Vice President Joe Biden Begins Visit to Cuba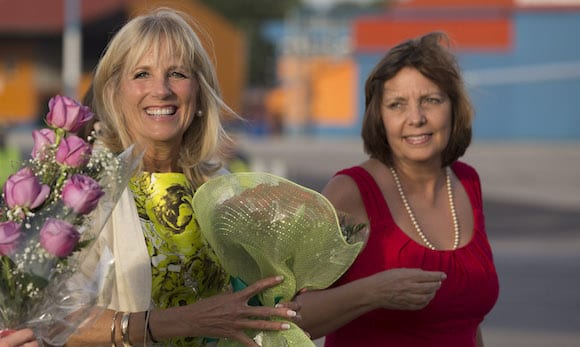 HAVANA TIMES  –  Jill Biden, wife of US Vice President Joseph Biden, began an official visit on Thursday to Cuba for cultural and educational purposes, reported dpa news.
Biden was welcomed by the director general for the US Ministry of Foreign Affairs of Cuba, Josefina Vidal, at the Jose Marti International Airport, according to state television images.
During her visit to the island, Biden is accompanied by the US Ambassador for Global Women's Affairs, Catherine Russell, and Deputy Secretary of State for Educational and Cultural Affairs, Evan Ryan.
Biden's agenda includes a to visit a school, a walk through the colonial part of the historic center of Old Havana and to witness to a friendly soccer match between the United States and Cuba.
After her stay in Havana, she will go to the central province of Camagüey, and then continue to the Dominican Republic.