Will Hurricane Irma Threaten Cuba?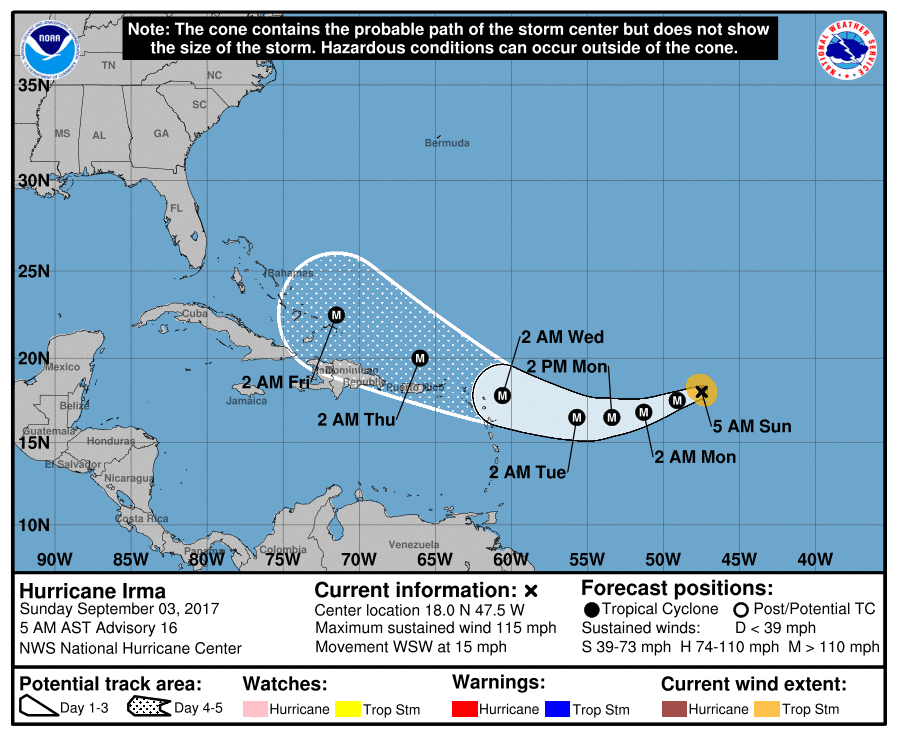 HAVANA TIMES – Besides locals, a lot of people who are planning to travel to or from Cuba in the coming week are asking what affect Hurricane Irma might have on their plans. However with the storm still a good ways away in the Central Atlantic, it is too early to tell.
Irma, currently packing 115 mph (185 km/h) winds, is still around 72 hours away from the Leeward Islands, in the far eastern Caribbean.
At 5:00 a.m. (ET) on Sunday Irma was moving west-southwest at a forward speed of 15 mph (24 km/h).  The National Hurricane Center (NHC) predicts that the storm will slow slightly through tonight and then tip towards the west on Monday.
The NHC, based in Miami, now sees the center of Irma moving just north of Puerto Rico and the Dominican Republic on next Thursday or Friday. There are still no coastal warnings in effect but different authorities are heads up, as can be seen in some local media.
The current forecast cone, which is still subject to considerable change, sees the outer bands of the storm reaching far eastern Guantanamo province in Cuba by the weekend. If and how it might affect the rest of the country is still too early to tell.
In the United States, just beginning a long road to recovery from Hurricane Harvey on the Gulf Coast, many eyes are on Irma, as the major storm may be headed for the Bahamas and then the US mainland or it could take a turn north-northeast and skirt the coastline.
At this point, the NHC notes that the hurricane force winds extend outward 25 miles (40 km) from the center and tropical storm force winds up to 80 miles (130 km) outward. The minimum central pressure is currently at 969 millibars.