Will US Senators Move Cuba on Allan Gross?
By Circles Robinson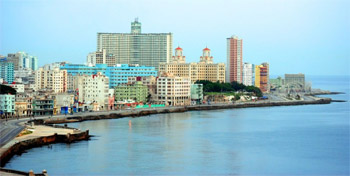 HAVANA TIMES, Feb 24 — US Senators Patrick Leahy (D-VT) and Richard Shelby (R-AL) dropped in on Cuba's Raul Castro in Havana for a late night meeting on Thursday.
The US media immediately speculated that the situation of imprisoned US citizen Allan Gross would be on the senators' agenda.
Gross, 62, is in year three of a 15-sentence for smuggling illegal communications equipment into Cuba on a US AID contract to promote "democracy" on the island.
The United States does not have diplomatic relations with Cuba and maintains a half century embargo to strangle island's economy and bring down its government.
"The head-to-head was the first Castro has held with prominent Americans since he dined with ex-President Jimmy Carter in April 2010," noted AP.
A photograph published by the official Granma newspaper shows the Senators with Castro. In reporting on the visit by the senators the newspaper did not elaborate on any of the matters discussed.
The Obama administration relaxed travel restrictions on Cuban-Americans who can now visit the island as often as they wish but other US citizens need special US Treasury Dept. permission to go to Cuba.
Group travel for educational, cultural or religious purposes is easier than under George W. Bush when it came to a halt.
The US senators are part of a congressional delegation that is visiting Cuba, Haiti and Colombia.