Yoani Sanchez Grounded as Castro Flies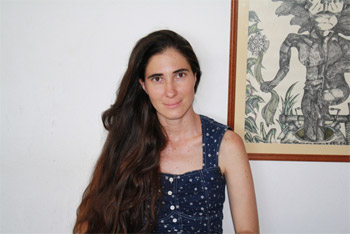 HAVANA TIMES, Feb 3 — For the 19th time Cuban blogger Yoani Sanchez has been denied an exit visa in order to travel abroad.
The continued grounding of Sanchez came on Friday as Cuban President Raul Castro traveled to Caracas to attend a summit of the ALBA nations.
Sanchez had hoped to attend the premiere of a documentary titled "Conexion Cuba-Honduras" to premiere next week in Bahia, Brazil.  The blogger was one of the people interviewed for the film.
The government of President Dilma Rousseff had extended a visa to Yoani to visit Brazil but she was once again refused permission to leave the island by Cuban immigration authorities.
Sanchez said on her Generation Y website:  "I feel like a hostage, kidnapped by someone who doesn't listen and gives no explanations."
Unlike most of the world, Cubans need an exit visa (which costs US $165) to leave their country, which can be denied for political reasons.
Sanchez has been portrayed in the Cuban media as a leading threat to the Cuban revolution in what is dubbed the Cyberwar against the island's government.  She is kept under strict surveillance by Cuban State Security but has never been charged with any crime.