Yoani Sanchez Met with Protests in Brazil
By Diana Renee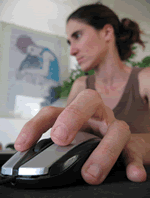 HAVANA TIMES (dpa) – Cuban dissident blogger Yoani Sanchez was met at two airports by pro-Cuban-government protestors Monday in Brazil, on the first stage of a long-awaited international tour.
Sanchez, 37, an outspoken critic of Cuban President Raul Castro, had for years been denied the so-called "white card," the exit permit to leave Cuba, despite receiving invitations from around the world as an award-winning blogger.
Cuban authorities did away with the exit permit last month and soon afterwards issued Sanchez with a passport, the only document that Cubans now need to leave the communist island.
She left Havana on Sunday on a long tour that is to take her to a dozen countries in the coming weeks, although she has stressed that she plans to continue living in Cuba.
In north-eastern Brazilian airports, both during a stop-over in Recife and upon arrival in Salvador, she encountered small groups of protestors who accused her of using her blog to weaken the Cuban government and threw counterfeit dollars at her.
"Cuba is a country that faces a series of difficulties and Yoani never talks about that. She is financed by a foreign nation to attack her own country," Caio Ferreira, a member of the Union of Socialist Youths and one of the organizers, told the news portal UOL.
Sanchez, the author of the blog Generacion Y, was apparently neither surprised nor bothered by the protest. "It was a bath of democracy and plurality," said Yoani, "I'm very happy and would love that in my country we could express our different opinions and proposals with such freedom."
In the coming weeks, Sanchez is scheduled to head to Europe, the United States and other countries in the Americas.
"From Brazil I'm off to the Czech Republic, then Spain, Mexico, the United States, the Netherlands. Form the Netherlands I'm going to Germany, Switzerland, Sweden, Italy, Spain again. On this side of the Atlantic, I'm going to Peru," she said.
Trips to Chile and Argentina were yet to be confirmed.
Doing away with the exit permit is one of the most significant reforms implemented by Cuban President Raul Castro since he succeeded his brother Fidel Castro in the leadership in 2006. Others include making more room for private initiative and allowing Cubans to buy and sell cars and homes, after decades of restrictions.