Yoenis Cespedes Wins Back-to-Back MLB Home Run Derbies
By Peter C. Bjarkman  (baseballdecuba.com)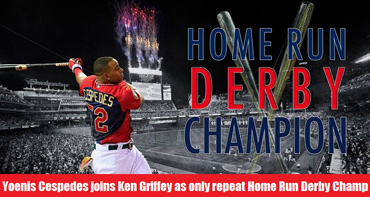 HAVANA TIMES — It is now official that the Cubans have indeed made an historic impact on MLB's 85th annual Midsummer All-Star Classic. The Cuban contingent (five players) had already made history by arriving here in Minneapolis with their largest All-Star Game representation in 46 years. And now thanks to the Monday night power displays of Yoenis Céspedes in the 30th edition of the exhibition Home Run Derby, they will also depart with at least one true moment in the limelight, no matter what happens in the showcase Tuesday evening ballgame itself.
In the rain-delayed thirtieth renewal of the increasingly popular and always evolving Derby, Yoenis Céspedes wrote a piece of history by becoming only the second repeat (back-to-back) competition winner and the first since guaranteed Hall-of-Famer Ken Griffey Jr. a full fifteen years in the past. Céspedes in the process also joined Griffey (3) and Prince Fielder has the only trio to claim multiple crowns. And with his demonstarted enthusiasm for the event, it is almost a certain thing that the Oakland slugger will be back on several future occasions to attempt adding to his growing Derby trophy shelf.
Céspedes started slowly in the Monday night defense of his crown, launching only three over the outfield wall in the opening elimination round and needing a three-hack swing-off to break a deadlock with Oakland teammate Josh Donaldson. But then the fireworks began as the Cuban slugger humbled Baltimore's Adam Jones by a 9-3 margin in round two and overpowered AL Derby captain Jose Bautista 7-4 in the semis. Bautista had put on a 10-homer fireworks show in the opening session to earn a round two bye, but the Blue Jays outfielder couldn't match that earlier effort against the renewed confidence displayed by Céspedes. On the National League side Cincinnati's Todd Frazier earned a surprise ticket to the finals despite only smacking one dinger on his own semifinal showdown with Miami's Giancarlo Stanton. Stanton lit up the crowd with the night's only 500 foot blast in round one but couldn't lift even a single long fly ball in the crucial showdown with Frazier.
It was a true feast or fame night for the pair of Cubans in the competition since Yasiel Puig failed rather miserably and didn't come close to keeping pace with his countryman or anyone else in the ten-man field. Puig disappointed mightily in the opening round, rushing his swings and quickly lining seven outs to various parts of the infield and outfield without once connecting for pay dirt. Puig's only long fly was a loud foul ball out into the left field corner stands and he was thus the only slugger on the field who failed to blast at least one crowd-pleasing homer.
Céspedes found himself leading off the final round championship matchup after losing a coin toss to determine the batting order versus Frazier. Now fully warmed to the occasion, the Cuban wowed the sellout 40,000-plus crowd with nine smashes to deep left and center field, six reaching the upper deck and all but two measuring 400-plus. Frazier could answer with only a single smash in a finale that seemed all-but-determined from the opening Céspedes moon shot. Céspedes in the end accumulated 29 long balls overall, three short of his winning totals last summer in New York's Citi Field.
In his moment of triumph Céspedes spoke before the ESPN cameras about his true love of performing in the limelight and also of his pride in demonstrating the quality and achievement of the new breed of Cuban diamond stars. But once again his achievements (certain to launch a new wave of national pride in Havana and his native Granma Province, and all across the baseball-loving Cuban nation) spoke far louder than words. No matter what roles Céspedes, Abreu, Chapman, Ramirez and Puig may eventually play in tonight's actual showcase ballgame, Cuba has already made its historic mark on this year's Minneapolis All-Star Game festivities.
All-Star Game Home Run Derby History
Year        Winner                                  Totals      Location
2014       Yoenis Céspedes             29           Minneapolis (Target Field)
2013       Yoenis Céspedes             32           New York (Citi Field)
2012       Prince Fielder                      28           Kansas City (Kauffman Stadium)
2011       Robinson Cano                     32           Phoenix (Chase Field)
2010       David Ortiz                         32           Anaheim (Angel Stadium)
2009       Prince Fielder                      23           St. Louis (Busch Stadium)
2008       Justin Morneau                    22           New York (Yankee Stadium)
2007       Vladimir Guerrero               17           San Francisco (AT&T Park)
2006       Ryan Howard                        23           Pittsburgh (PNC Park)
2005       Bobby Abreu                        41           Detroit (Comerica Park)
2004       Miguel Tejada                       27           Houston (Minute Maid Park)
2003       Garret Anderson                  22           Chicago (U.S. Cellular Field)
2002       Jason Giambi                        24           Milwaukee (Miller Park)
2001       Luis Gonzalez                       16           Seattle (SAFECO Field)
2000       Sammy Sosa                          26           Atlanta (Turner Field)
1999       Ken Griffey Jr.             16           Boston (Fenway Park)
1998 Ken Griffey Jr.             19           Denver (Coors Field)
1997       Tino Martinez                       16           Cleveland (Jacobs Field)
1996       Barry Bonds*                        17           Philadelphia (Veterans Stadium)
1995       Frank Thomas*                     16           Arlington (The Ballpark in Arlington)
1994       Ken Griffey Jr.*                    7              Pittsburgh (Three Rivers Stadium)
1993       Juan Gonzalez                       12           Baltimore (Camden Yards)
1992       Mark McGwire*                   12           San Diego (Jack Murphy Stadium)
1991       Cal Ripken*                         12           Toronto (SkyDome)
1990       Ryne Sandberg*                   3              Chicago (Wrigley Field)
1989       Eric Davis*                          3              Anaheim (Anaheim Stadium)
Ruben Sierra*                      3
1988       Cancelled due to Rain (Cincinnati Riverfront Stadium)
1987       Andre Dawson*                   4              Oakland (Oakland Coliseum)
1986       Wally Joyner*                       4              Houston (Astrodome)
Darryl Strawberry*              4
1985       Dave Parker*                        6              Minneapolis (Metrodome)
*= Team Format (winner indicates individual player with most homers)
Back-to-Back Winners in Boldface