Nicaraguan Opposition Breaks Off Talks with Ortega Gov.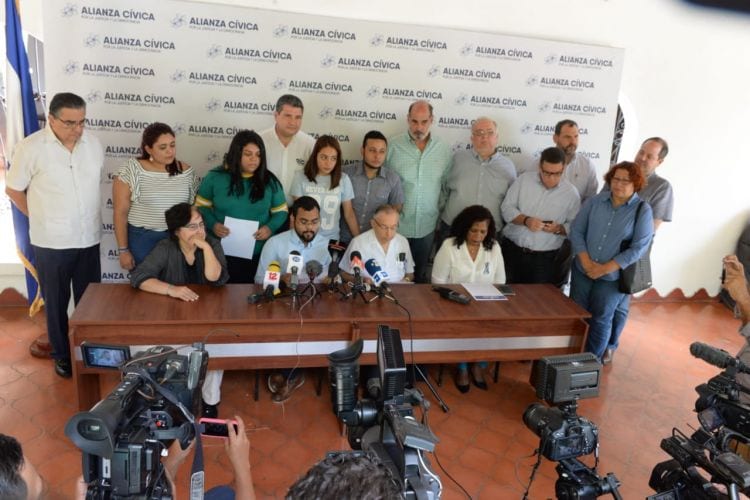 HAVANA TIMES – The Nicaraguan opposition on Monday broke off talks with the government aimed at ending the political unrest that has shaken the Central American country for over a year, reported dpa news.
"The Civic Alliance for Justice and Democracy is withdrawing from the negotiating table until the government releases [and drops all charges and sentences] against the hundreds of political prisoners from the agreed list held by the International Committee of the Red Cross," the alliance said in a statement.
It also called on Nicaraguans to hold a general strike in the coming days. The Alliance includes several business chambers who were part of their decision to hold a national strike.
Hours later the government announced that 100 political prisoners arrested for terrorism and other charges would be immediately transferred to house arrest. It did not state anything about their legal status.
Nicaragua has been rocked by protests against the government of President Daniel Ortega for the past year, with Ortega's security forces and paramilitary bands cracking down harshly on the non-violent demonstrators.
More than 325 people have been killed and thousands injured, according to the UN and Inter-American Human Rights Commissions and local Human Rights organizations. An estimated 80,000 Nicaraguans have fled into exile to avoid death or prison for having participated in anti-government protests.
The protests started on April 18 last year as demonstrations against a controversial social security reform and mushroomed around the country in reaction to the deadly government repression.
Ever since, the country has lived under an undeclared police state where most civil liberties are suspended and criminalized, and Daniel Ortega's Police and paramilitary forces impose their will with total impunity for their actions.
The following is the list of the 100 political prisoners the government said were released today to house arrest.
Aleyda del Socorro Castro Membreño, Reynaldo de Jesús Escorcia Flores, David Salomón Duran Balmaceda, Juan Carlos López García, Álvaro Javier Marín López, Carlos Alberto Calvo Díaz, Edgar Antonio Pérez López, Edgard Antonio Montenegro Castro, Juan Carlos Gutiérrez Peña y Luis Enrique González Rivera.
Daniel Picado Castillo, Carlos Manuel López, Carlos de Jesús Lacayo, Roger Alexander Espinoza Méndez, Reynaldo Antonio Lira Luquez, Andrés Eliseo Cruz Báez, Carlos Anuar Varela Pavón, Ricardo José Matus, Augusto Antonio Gutiérrez Mercado y Elvin Daniel Pérez Arroliga.
Bismarck Antonio Castro Morales, Edward Martin Navarro, Roberto Mauricio Pacheco Vanegas, Carlos Alberto García Suarez, Jony José Leiva Tinoco, Francisco Javier Dávila, Ariel Antonio Icaza Acosta, María Adilia Peralta Cerrato, Ervin Alexander Zamora Peña y Daniel Antonio Téllez Cruz.
Irvin Donaldo Escobar Ortiz, Carlos Isaac García González, Richard Alexander Saavedra Cedeño, José María Fuentes González, Rafael Enrique Acevedo Guevara, Rubén Omar Guido Araica, César Augusto Fernández Castillo, Ervin Manuel Gómez Mena, Carlos José González Flores y Steven Geovanny Areas Omier.
Orlando Antonio Thomas Pérez, José Jafet Gómez Vanegas, Gerald Nicolás López Vásquez, Richard Sebastián López, Domingo Soriano Lacayo Campos, Jorge Guadalupe Gómez Moraga, Freddy José Laguna García, José Alejandro Guido Carballo, Kennet Isaac Martínez Gaitán y Abdiel Enrique Lara Ortiz.
Allan Antonio Pérez Hernández, Gerald Enrique Lovo Cuadra, Jonathan Francisco López González, Juan José Gómez Medina, Francisco Antonio Castro Jarquín, Jeysi Junieth Lagos, Yamileth del Carmen Gutiérrez Moncada, Chester Enmanuel Navarrete Jarquín, Edgardo Geovanny Baltodano Solís y Wilfredo Alejandro Brenes Domínguez.
Vidal José Canizalez Hernández, Dilon Antonio Zeledón Ramos, Byron de Jesús Molina Fuentes, Jean Carlos Esteban Lesage, Luis Miguel Esteban Lesage, José Javier Díaz Arauz, Hamilton Francisco Hernández Montalván, Emmanuel Salvador Fonseca Espinoza, Juan Mauricio Villalobos Campos y Greybin José Leiva Tinoco.
Orlando Granados Castro, Jordi José Silva Márquez, Juan Ramón Vílchez Gutiérrez, Jony José Leiva Tinoco, Pedro José Álvarez Flores, José Dulio Novoa Taleno, Catalino Rodríguez, José Andrés Minas Urbina, Tania Verónica Muñoz Pavón y Kenia María Gutiérrez Gómez.
Cristofer Alexander Palacios Vanegas, Jeziel David Chavarría Úbeda, Víctor Manuel Ríos Betancour, Edder Oniel Muñoz Centeno, Juan José Cruz García, Manuel de Jesús Cerrato Rodríguez, Washington Ángel Martínez, Orlando Alexander Valverde Ortiz, Hamilton Bryan Quintero, Roger Gutiérrez y/o Gutiérrez Muñoz.
Francisco Javier Dávila Pineda, Ronald Fernando Aviléz Liebl, Daniel Humberto Rodríguez Pulido, Santiago Eduardo Ulloa Cuarezma, Jordani Edilio García Cárdenas, Roberto José Cruz Altamirano, Jaime Ramón Ampié Toledo, Julio José Ampié Machado Sergio González y Marvin Alexánder Oporta Mora.