Nicaragua's Unconventional Mothers
Three Nicaraguan women who've broken with convention talk about their experiences with motherhood.
By Cinthia Membreño  (Confidencial)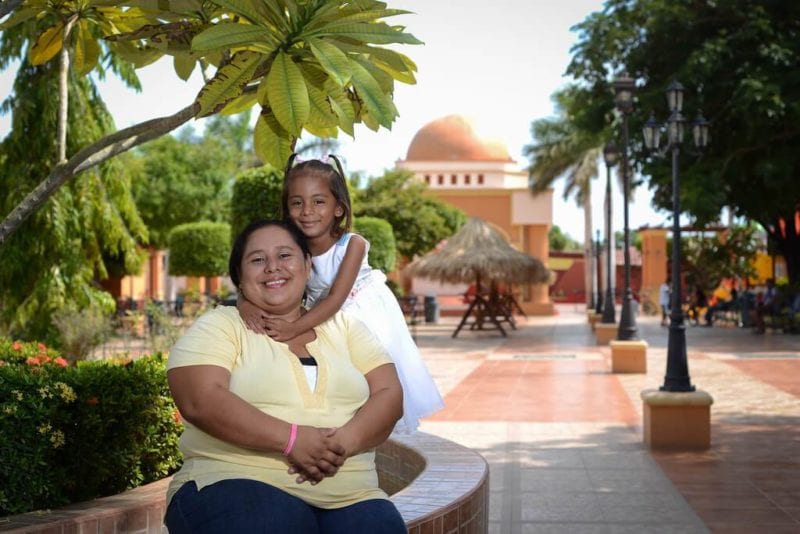 HAVANA TIMES – Nicaraguans celebrated Mother's Day this past May 30th, as they do every year on this date.  The commercial machinery took advantage of the occasion to push the image of a slim, heterosexual married woman, fully dedicated to her children.  But there are other diverse identities involved with motherhood, and these are frequently left out of the picture.  Where do these kinds of mothers fit in?
In this story, an adoptive mother, a lesbian mother and a mother who works in the sex trade tell how they experience their maternity within their own contexts.  None of them celebrated Mothers' Day, all affirming that in the last few years the homage that used to be rendered to people like themselves as mothers has been cheapened.  This trio of interview subjects all state that they've raised their children with the truth and that their decision to do so has borne fruit.
Doctor, mother, feminist
Ana María Pizarro never wanted to be a mother.  But something changed when at 31 she moved to the El Crucero municipality and began to see some seventy children a day in her role as doctor.  The little ones urinated on her, or vomited; nevertheless, it was amidst this backdrop of the poverty of the eighties that she began thinking about having offspring.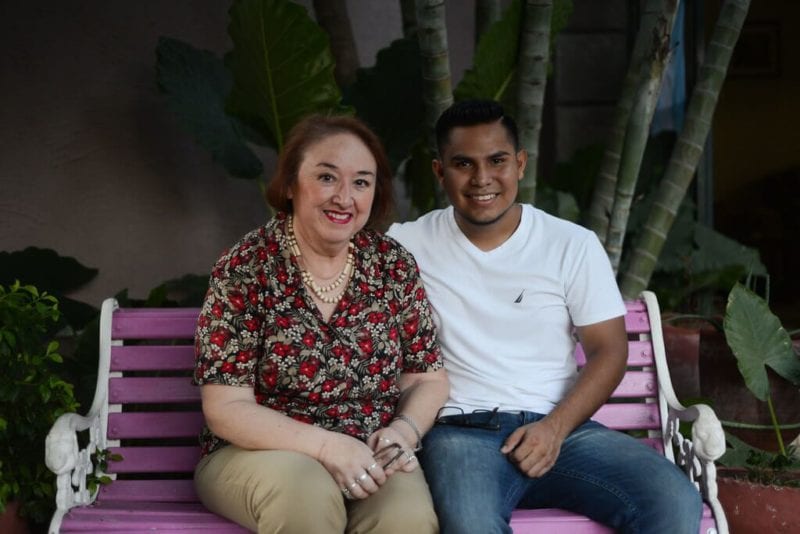 At 43, however, Ana María discovered that she was sterile and decided to opt for adoption.  Although she didn't have a partner, Nicaraguan laws allowed adoption by single people who could provide a stable home for orphaned children.  The process was strict and meticulous, coordinated by the Nicaraguan Fund for Infancy and the Family (FONIF), an autonomous institution that was the precursor to today's Ministry of the Family.
Ana María recalls that in order to find her son Pedro, she submitted to numerous interviews and home visits over a seven-month period.  Eventually, FONIF introduced her to a two-year-old who she found very funny: they had just woke him up to meet her, and he was in a very stormy mood.  "I said:' It's good, it's fine.  He has a strong character, he stands up for what he wants,'" the doctor remembers.
Although Ana explained to Pedro from the beginning that he was adopted, both of them had to confront the indiscreet reactions of Nicaraguan society.  It would happen when people couldn't understand how she, who was white-skinned, could be carrying a dark-skinned child in her arms.  Or they would ask in front of him if Pedro was really hers, if she had given birth to him.  Without thinking twice, she would answer that yes, she had given birth to him in her heart.
The founder of Sí Mujer (Yes, Woman), a foundation that offers medical attention to Nicaraguan women, explains that she's disgusted by the way that Mother's Day is now promoted. "That day, the patriarchy gets out all its tools and shows them off with no shame.  I'm already waiting for the article celebrating the youngest mother of the year (…) They push women into maternity as their life's destiny, and at the same time they condemn them when they become pregnant.  They're celebrating the sacrifice, the postponement or the interruption of women's dreams. That doesn't bring any joy to me," she concludes.
Lesbian, mother, grandmother
Noemi Loaisiga knew from a very early age what it meant to be a mother. During her adolescence, she also discovered first-hand that some men were capable of beating the women who had given birth to their sons. At the time, she was only fifteen and living together with her 18-year-old partner in a small house in the torrid municipality of Mateare. The young girl had decided to form a traditional family after having had Raquel, the first and only child of their common-law union.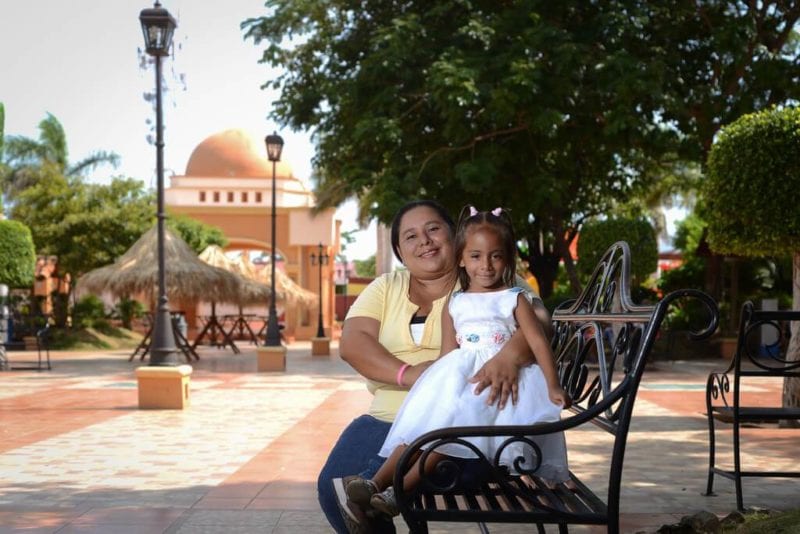 Soon Noemi discovered that the father of her little girl was a womanizer; that he liked to give the orders because he was the man; and that he didn't want to work.  But things really spun out of control when he beat her with a wire cable.  At the time, her baby was three months old, and she began to ask herself why she should have to put up with such treatment. "I said: 'from here on out, no more,'" recalls this woman, who today is 35 and a member of the Artemisa Lesbian Group.
Noemi walked out.
Throughout those episodes of violence, there was one person who defended her from the blows: Elsa, her sister-in-law, who was gay.  Noemi discovered that although she liked men, she was feeling a particular attraction towards Elsa.  "That's where it all began.  I told my mother, kind of joking, that I had a crush on the sister of my baby's father.  My mother exclaimed: "What's kind of shameful talk is that?"
Little by little, Noemi and Elsa entered into a gay relationship and decided to live together.  Nonetheless, the family's rejection was so extreme that her mother, on the advice of her grandmother, locked her in a room and beat her "to put an end to those shameful activities."  Naturally, the beating didn't work, and the relationship with Elsa continued for more than a decade.
When Raquel was five, Noemi and Elsa told her about their love and what it meant.  Now a young woman and timid about being photographed, Raquel today is the mother of a four-year-old.  The day of the interview, her little girl was prancing around happily in a princess dress, keeping a tight grip on Grandmother Noemi's hand. "I like being a grandmother and having this sticky little one here following me around.  We all spoil her. My partner would give her life for this girl," the domestic worker assures.
Noemi is talking about Juan, the partner she found after her eventual break up with Elsa.  He was born a woman, but identifies as a masculine transsexual and has been living with her for ten years.  They share a small house built with zinc sheeting in an annexed area of the Nagarote municipality.  They don't have any luxuries, but they do enjoy a panoramic view of the imposing Momotombo volcano.
Noemi didn't celebrate Mothers' Day this past May 30. "Why would I be celebrating it? It gives me no pleasure," she declares, speaking as a lesbian mother who doesn't receive any recognition from society. "They criticize us for being mothers, because first we lived with a man and later with a woman, since we're not like the heterosexual mothers," she says regretfully.
A mother who breaks the rules
As a woman, Maria Elena Davila has broken a series of moral precepts inculcated by the patriarchy.  Since she was 38, this native of Esteli has chosen to work in the sex trade.  And since 2007, she also looks out for the rights of those like herself, laying out in the public arena the interests of the Girasoles [Sunflowers] Association for Nicaraguan Female Sex Workers, an organization that seeks to better the living conditions of her colleagues.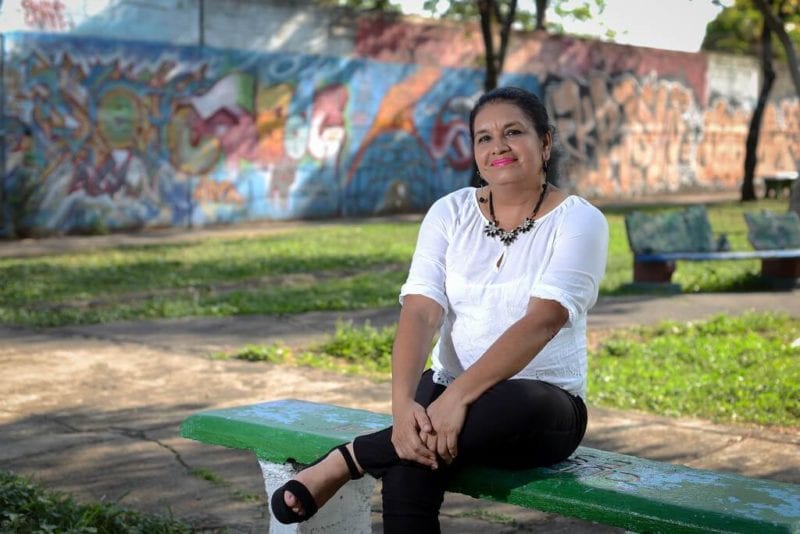 Beyond her work as a member of civil society, Maria Elena is the mother of two boys.  The founder of the TraSex Network explains that her maternity was the result of social pressure.  When she got married at 22, she felt that she had to comply with the requirement of having a baby, because that's what she'd been taught.  "I did what was expected of me; it wasn't something that I desired, and it wasn't like anyone ever asked me about it," she remembers.
Maria Elena has one son who is 30 and is a professional, and a son of 20 who's studying at the university.  Both know what their mother does for a living and that she took this road to cover their necessities when they were small.  According to Maria Elena, she decided to tell them when she found out she was going to be featured in the media as a representative of the Trasex Network, that at the time was signing an agreement with the Office for Human Rights.
Not all of the sex workers will show their faces.  Maria Elena notes that many face complete rejection from their families.  Upon discovering what they're doing, they're threatened by their partners or they're left without the right to bring up or visit their children.  According to the founder of the Trasex Network, sex workers that come from highly religious or conservative families end up believing that the work they do is immoral and that they will set a bad example for their children.
Despite the stigma, Maria Elena considers that the social sectors that criticize them are fewer than when she began, and she notes a greater openness towards the sex trade.  She states that she didn't celebrate Mothers' Day because it's become a purely commercial matter.  For her, being a mother is a task carried out every day, whatever the child's age.  At least hers are independent and she has a close relationship with them.
"We're more than mothers and sons, we're friends.  We trust each other, and we resolve our problems together."