A Real Story in Cuba that Relives "The Death of a Bureaucrat"
By Victor Manuel
HAVANA TIMES — As a passionate fan of Cuban cinema, not long ago I decided to re-watch the Drama "La muerte de un burócrata"  by director Tomas Gutierrez Alea which dates back to 1966. This movie made by the Cuban Institute of Cinematographic Art and Industry (ICAIC) is one of the many that were at the peak of Cuban filmmaking last century.
With a music score by Leo Brouwer and artists like Salvador Wood and Manuel Estanillo, it tells us the story of centralized bureaucracy in modern-day Cuba, as a comedy and drama.
Watching this masterpiece, I remembered the story of Marta Elena Otero, a neighbor who has become the protagonist of a similar story. This 46-year-old teacher tells me that she's been trying to update her home's property documents for the past 4 years.
Her house, located on Marti street in Santo Domingo, Villa Clara, is in her paternal grandfather's name who died in 1996. She lives with her 78-year-old mother, her brother and her son. According to her story, she didn't see the need to put the property ownership papers in order before because they didn't think about doing anything to the home until it began showing signs of structural problems a few years ago and is on the brink of collapse.
According to records, her house was built in 1920 (nearly 100 years ago). However, after doing all the paperwork, hunting down documents and certificates from different places in the Housing System, her paternal grandfather (the owner's husband) "doesn't appear" anywhere.
This man died in 1962 in Havana's Fredy Andrade hospital, he was buried in the capital and his remains were moved to Santo Domingo a few years later. However today, there is no document that certifies the death of her grandfather and as such he is considered to be "alive".
Marta has gone to many different places looking for the famous Death Certificate, both in Havana and Santo Domingo and the answer has always been that he DOESN'T EXIST. Not even in the records of the Communal Service, the company responsible for managing Cemeteries and Funeral Homes in Cuba.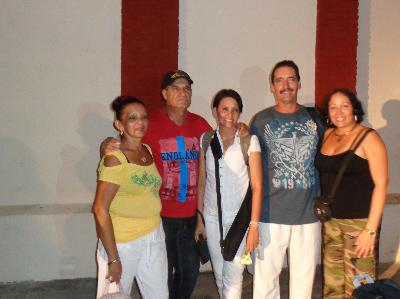 A few months ago, the case went to the Ministry of Justice's Provincial Department of Civil Status Records but the case it come to a standstill as the Civil registry offices both in the Capital and in the town of residence claim the same thing: "very old records have been lost or have deteriorated in moving them from one place to another" and they have never had a case like this before, says Rachel, the Ministry of Justice official who is dealing with Marta Elena's case.
After having paid nearly 500 pesos (approximately 23 USD) for documents, now the process can't move forward because of a dead man and the thing is that the deceased was the husband of the current owner (who has also died), Marta Elena's father's parents.
She assures me that: "she only wants the property deed in her name so that she can apply for a building license to fix up her home before it falls down (on her or her 78-year-old mother)."  "I don't want the State to give me a subsidy or loan (current ways of getting bank loans to repair houses) to repair my home, I am going to pay for it out of my own pocket (from my own efforts) I just want the deed of my house, where I have lived for more than 40 years."
An unbelievable and almost incredible story, it only compares to Alea Gutierrez's story in his film "The death of a bureaucrat", as it seems that this bureaucrat, the manager of the Colon Cemetery (according to the movie) is still alive today in the Cuban State's institutions where people must go for paperwork. In spite of "so many efforts" to modernize or streamline procedures, reality proves that Cubans are still prisoners of archaic technicalities and methods. I only hope that Marta Elena is able to fix up her home and that we won't have to repent greater damages.