Janis Hernandez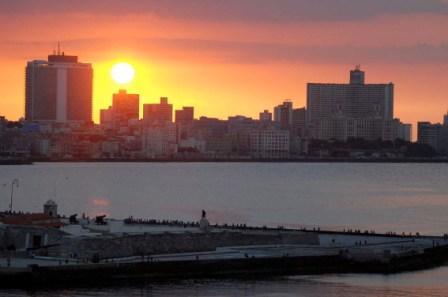 HAVANA TIMES — An explanation was published by Cuba's Electric Company under the headline: "Commission Reports on the Cause of the Sept. 9 Blackout."
According to the memo, this is the report by the committee that was set up to investigate the accident, its causes and the conditions that led to the breakdown.
The note explains: "the shift manager of the National Load Office of the Electric Company violated the transfer limits at the 220 kilovolt (kV) substations linking Nuevitas, in Camaguey province, with that of Vicente in the province of Ciego de Avila. Despite having given orders to disconnect the loads in the west, which would have avoided the problem, he failed do this in a timely manner (…) The Electrical Company adopted administrative measures against those responsible in relation to the severity of the incident."

Coincidentally, minutes before reading that article, I was once again looking at some of the photos that are circulating in a file called "The Manager of the Compote Factory."
You might be asking: What does this have to do with the communiqué from the Electric Company? I'm sorry that I don't remember the name of that manager mentioned above, but I do have very clear images of his colossal residence, one that even has its own independent generators for supplying the entire amount of energy demanded for all the fixtures in his home, including air conditioning consoles and an overwhelming number of home appliances and lights.
In this case he is just one of many leaders involved in corruption through the massive diversion of resources for personal benefit. Like him, there must be hundreds who have not yet fallen from grace, if they ever will (and we know why they won't).
Despite the poor decision by this one shift manager, these are people who "contribute to unplanned increases in the maximum demand of megawatts (MW) with respect to the planned value that is programmed by the National Office."
His photo shows him to be relatively young man with the "establishment look" of someone who has emerged from the ranks of the Young Communist League or the military, but no information has been released about him, people are merely speculating based on his photos.
This is another news story that's circulating underground from USB drive to USB drive, in this way overcoming official secrecy.
Nevertheless we know that a breakdown of the power supply system can be caused not only by a general overload or switching violation. The large homes of corrupt leaders and others of that clan who enjoy great privileges, were, are and will be responsible for the major blackout.
Although the breakdown on September 9 wasn't directly connected to the squandering of resources at the manager's house, we know that these privileged evade the power saving measures that the people have had to make on many occasions.
Other blackouts like this might occur and other unfortunate shift managers will be held accountable.