Yusimi Rodriguez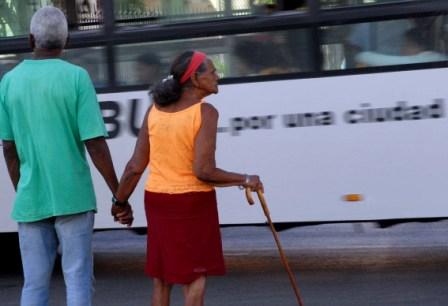 HAVANA TIMES, Dec. 2 — I owe an excuse to the readers of Havana Times.  First for the number of times that I've written about the issue of public transportation in Cuba, which I imagine is pretty boring to any outsider.  Secondly, because every time I've written on the subject up until now, it's been to complain…the ingrate that I am.
Four or five months ago I complained because I had to wait fifteen or twenty minutes at a stop to finally get on a bus, and when it finally appeared it didn't stop at the stop, but instead twenty yards before or after.  I then had to make a short dash to catch it.  Once inside, I had to put up with the pushing, nudging, odors and all stepping on my feet until the end of my ride.  However, I should say, and despite those criticisms that I made so sharply, the ride itself was really quite fine.
Currently, when we only have to wait fifteen or twenty minutes for a bus, we feel fortunate. The problem is that now this hardly ever happens.  Presently the wait drags on for thirty and up to forty minutes.  But still, that's not the problem. In fact, if there's something we Cubans are more than accustomed to, it's waiting.
The problem is when you spend thirty or forty minutes at a stop and a bus finally appears but doesn't stop.  I'm not saying that it halts a little before or a little after the stop; I'm saying that it simply doesn't stop at all.
When I get to my stop in the morning, I'm not used to pulling up at the officially designated stop, because that's the one for the losers. I go to that of the winners – before the traffic light.  The bus stops there so that people who have arrived at their destination can file out, while those of us with foresight walk down to that point and are positioned to get on.
If it's not very full, the bus will stop at the official stop (that of the fools), and some fools will be able to get on. Otherwise, they have to stomach looking at us from the sidewalk and continue waiting.
Today, when arriving to the stop of the winners, I found it almost as full as that of the fools.  It had even been joined by a few senior citizens.  When the bus finally pulled up (I had waited forty minutes, who knows how long it was for those who were there before me), it stopped almost two blocks from the point where we were waiting.  So, everyone had to run – and fast.
You have to get there while people were still coming out, because the objective of the driver is to empty the bus; they don't wait for those trying to get on.  I was able to squeeze in along with a really old man with his crutches in hand.
I find few things more pathetic than elderly people running after a bus. They're hardly ever able to get on.  When they get there it leaves, and they're left standing there in the middle of the street looking around with what seems the greatest sense of abandonment.
But I'm not complaining.  I'm happy that I only had to wait forty minutes and that I had to run no more than two blocks to get on.  What worries me is that things could get even worse.