Cuba: Artist's Detention Takes a New Turn
The Artist, Prayer and Freedom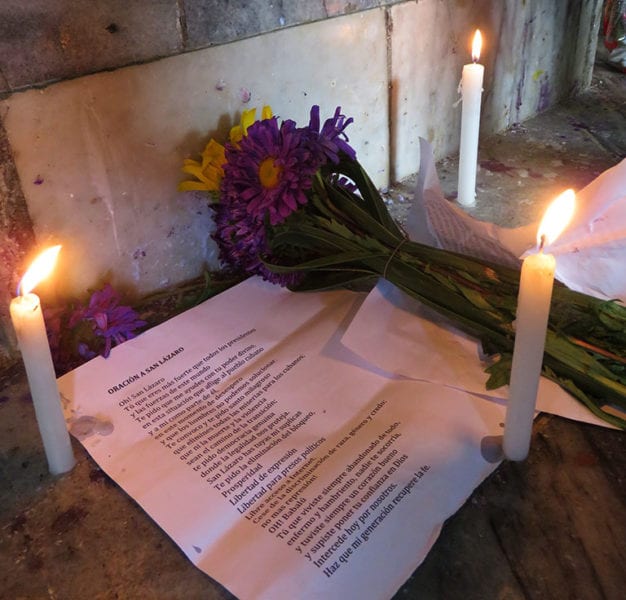 HAVANA TIMES – When you want to silence someone, the most common methods used are blackmail and repression. But when it comes to a good idea, shared by many in its fundamental principles, it is difficult for it not to fly by itself. The person who created it may be stopped but the idea will continue its journey.
This is what happened with the prayer to San Lazaro that the Cuban artist Luis Manuel Otero wanted to take to the El Rincon sanctuary as part of his work Pilgrimage. It is not the first time that Otero makes a pilgrimage, the previous one was some years ago to the Caridad del Cobre (Our Lady of Charity) sanctuary in Santiago de Cuba, which advanced to the center of the Island although it did not reach its destination.
This time Otero was arrested from the night of Thursday December 14th until the afternoon of Sunday the 17th, when he was released. However, without the artist, his prayer did arrive at the sanctuary on the day of San Lazaro (Sunday), because it contains good wishes for Cuba.
There are many people who feel the duty to do something to get the country out of the quagmire in which it finds itself. And that is why anyone could take the prayer; and there it was, lit up by candles and accompanied by flowers. They hope that San Lazaro will attend to it.
The prayer reads: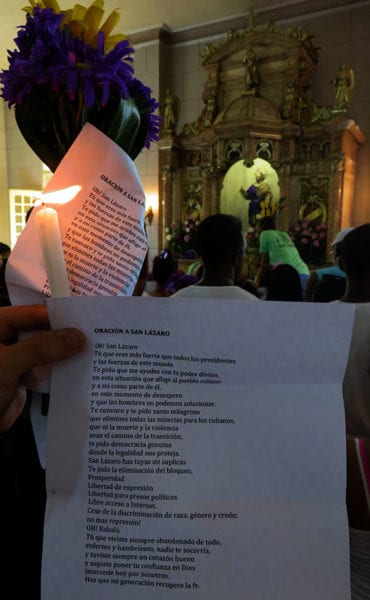 Oh! Saint Lazarus
You who are stronger than all presidents
and the forces of this world
I ask you to help me with your divine power,
in this situation that afflicts the Cuban people
and me as one of them,
in this moment of despair
and that men cannot solve.
I summon you and I ask you miraculous saint
that you eliminate all miseries for Cubans;
that neither death and violence
be the path of transition;
I ask you for genuine democracy
where legality protects us.
Saint Lazarus you have my supplications
I ask you to remove the blockade,
Prosperity
Freedom of expression
Freedom for political prisoners
Free access to the Internet
Cessation of race, gender and creed discrimination;
no more repression!
OH! Babalú
You who always lived abandoned of everything,
sick and hungry, nobody would help you,
and you always had a good heart
and you knew how to put your trust in God
Intercede today for us.
Make my generation regain faith.
Luis Manuel, in any case, insists on reaching El Rincon. Fresh out of jail he has already set out again on a pilgrimage; this time with several friends. If the threats made to him are met, they (State Security) will stop him again but he will resume the pilgrimage when he is freed.