Cuba: Raul Castro criticizes "outside interference" in Latin America
at the opening of the CELAC Summit in Havana
HAVANA TIMES — Cuban President Raul Castro warned today about threats of "foreign interference" in Latin America and the Caribbean from the "centers of power that are not resigned to losing control of the region," reported dpa news.
Speaking at the opening of the second summit of the Community of Latin American and Caribbean States (CELAC), Castro criticized the "long history of intervention in the region's internal affairs, military invasions and bloody coups," in a veiled reference to the United States, which is not a participant in the event.
At the same time, the Cuban leader called on the CELAC countries to build their own model adapted to regional realities.
"We live in a world ruled by an unjust and exclusionary international order in which the threats to peace and external interference in the region continue," said Castro.
"The 'centers of power' are not resigned to losing control of this rich region, or waive attempts to change the course of history in our countries to regain lost influence and benefit from its resources," he added.
At the start of the two-day event, the leaders observed a minute of silence in memory of the late Venezuelan President Hugo Chavez. This is the first summit of CELAC after the death of Chavez.
The summit began with a long musical recital of Latin American music, including salsa, merengue, bossa nova and Andean rhythms.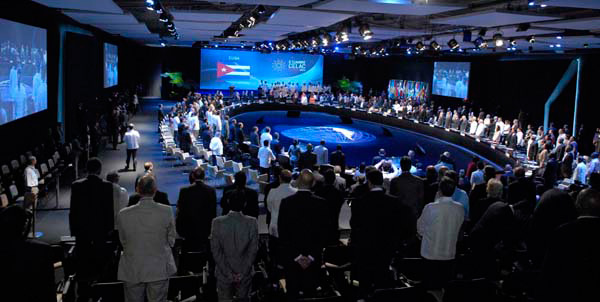 Attending as guests at the meeting are UN Secretary General Ban Ki -moon , and the head of the Organization of American States (OAS), José Miguel Insulza, among others. They join the presidents and prime ministers of most of the region.
During the opening ceremony, Castro also recalled that the region has been affected by the crisis in the global economy. The president called for the creation of a "new cooperation paradigm" between countries, and issued a call to work for free and universal access to education, full employment and the eradication of illiteracy.
"All are achievable goals, whose fulfillment will measure the progress of our region," Castro told the representatives of the 33 countries present.
The Cuban president said the region has the "human capital, economic infrastructure and export capacity" to achieve development.
According to the Economic Commission for Latin America (ECLAC), the regional poverty rate in 2012 amounted to 28.2 percent of the population, affecting 70.5 million children.