Cuba Will Have to Wait for a Next Time
Rosa Martinez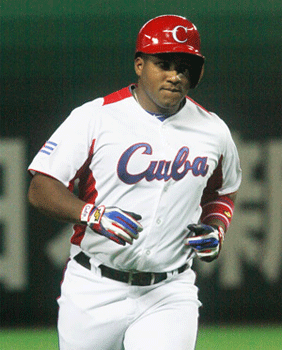 HAVANA TIMES — You could have said that Monday was just an ordinary day if it hadn't been for a baseball game that caused thousands of Cubans to get to their jobs and classes late.
If there are still those who believe that baseball has lost its followers here on this Caribbean island, I invite them to ask half the people in this country what they were doing Monday between six and nine o'clock in the morning.
It's true that soccer — the most universal sport — is gaining more followers and players here on the island, but baseball remains our passion, life, pleasure and our pain.
Who didn't vibrate yesterday with every run, every good play and each error made by the Cuban team? The same team we criticize at times, but we always cheer for them.
Yesterday combined a host of emotions, even before the match started, as this confrontation promised to be a clash of titans – and it was.
The Netherlands had won against us three of the last four times we faced them. Like the announcers said, they had studied us closely and knew where we were hurting.
Nevertheless, we were coming off knocking out Tapei China, which had looked great when facing Korea, and Japan, who they had lost to the previous day in 10 innings, — in another heartbreaker.
It was expected that Holland would come at a low point psychologically after having been blasted by Japan — with whom they had preferred to play.
The table was served and the Cuban's dreams stretched all the way to San Franciso. Why not?
A few pre-game comments
"They're a tourgh rival, but Cuba's on fire. Our boys are doing everything right. The heart of the lineup is responding and when that's the case, nobody can beat us," said our neighbor Luis.
Andres, another neighbor, said: "It always happens at the wrong moment. The truth is that Cuba always trips up and loses its decisive games. If the pitching is working, then the defense collapses and allows runs to score. When the batting is good, there's no one on the mound with staying power. When the moment of truth comes, they're a disaster."
A co-worker of mine, who loses his nails when watching his team, said: "The Netherlands has learned to play well against Cuba. I'm more afraid of them than the Japanese, with their Tanaka and everything, but we're going to beat them. If we play cool and collected we can beat them. No matter how good they are, they aren't invincible.
"We have a formidable lineup. Everybody talks of Abreu, Cepeda, Despaigne, but we don't see them like something from another world because they're our own. But pitchers respect the Cubans, that's the truth," said one Japanese fan.
"Our guys lost again against the Dutch, but they're going to win the big one, you'll see," said Esther, a cousin of mine who doesn't miss an international sporting event.
I know quite well what people feel before a game like this. They scream, applaud, stand around, sit there, and stand up again. The rooms of houses and jobs become small stadiums vibrating with emotion, with cheers for the good plays and whistles against the bad ones.
I also know the experience of losing a decisive game. I went through that in the last World Baseball Classic when Japan eliminated us in the second round, as well as prior to the last baseball competition in the Olympics (2008), when we had to settle for second place.
After a game like the one played yesterday, there are all types of headaches, people's blood pressure going up and down uncontrollably, chest pains, anger and grief. Lots of folks have regrets because they think the team could have done more.
Today I still feel nostalgic for my team. I continue watching the World Baseball Classic, but it's not the same. I'm for the teams of the Dominican Republic and Puerto Rico, but the truth is I've lost any real interest.
But that can't be helped. Right now Victor and his players must have already made it back to Cuba. We should applaud them. Despite the mistakes they may have made, that let the dreamed of win get away: They didn't look bad. The team gave its best, so all we can say is, "We'll be better next time."
The next World Baseball Classic is in 2017.