Cubans Seeking Visas to Their Dreams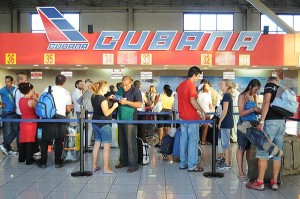 HAVANA TIMES — Against their own forecasts, dissidents Yoani Sanchez, Eliecer Avila and the daughter of Osvaldo Paya left Cuba – all benefiting from the new immigration reforms that opened the island's doors after 50 years of extremely cumbersome and expensive procedures.
Even when she was told she would receive a passport, blogger Yoani Sanchez insisted that she wouldn't believe it until she saw see it. She must be more convinced now – she's in Brazil, where she's begun an 80-day tour (around the world?) of ten or so countries.
Her counterparts (pro-government bloggers) initiated a volley of burlesque criticism against these trips by dissenters. In their posts, a caricature appears of Eliecer dressed like a Viking – as if visiting Sweden implies some kind of treason.
There seems to be a lack of coordination between the government authorities and their journalists. While some were handing out passports to dissidents so they could travel wherever they pleased, others were trying to ridicule them for exercising their right to leave the country.
The issue appeared in Facebook, where Lenier Gonzalez (of the Cuban Catholic church's Epacio Laical magazine), recalled that even enemies must be dealt with ethically. Similarly, journalism professor Elaine Diaz — with very Cuban humor — wrote: "Respect for the travel of others is peace."
There's nothing questionable about someone who opposes official policy leaving to travel the world – I think it might even be positive. It allows them to see other societies and contextualize their own situation, which is one of the shortcomings of the Cuban opposition.
In fact, blogger Yoani Sanchez has already begun to change her lines. In Brazil she called for the ending of Washington's economic embargo against Cuba, demanded the closure of the US military base in Guantanamo, and demanded the release of the five Cuban agents imprisoned in the US.
What I find curious is the ease and speed with which these dissidents obtained their visas compared to the obstacles now being erected by embassies against other Cuban citizens, measures that are much tougher since Havana opened the door to immigration.
It's not that they each got visas to enter a country, but that in a single month they were granted permission to enter a dozen nations. From what I was told, this occurred at the same time many diplomats were ordered to be stricter with travel authorizations for Cubans.
Anyone who has gone through embassies in Havana seeking a visa recently knows that the formalities are extremely cumbersome and expensive now. Paradoxically, this is just how they were at the Cuban immigration office prior to the reforms.
Life has become more difficult since the new immigration policy was implemented. Spain now asks for proof of thousands of Euors deposited in a bank. Mexico requires a bank statement from the company where the aspiring traveler works. Ecuador doesn't ask for a visa but it has reinvented Cuba's old requirement of a "letter of invitation."
Quito requires an Ecuadorian citizen to swear in front of a notary that they'll maintain the traveler economically and must demonstrate that they are financially solvent. In addition, one can only invite a single Cuban every 12 months – so if someone wanted to welcome a Cuban couple, the islanders would have to make their visits separately and with a year in between their trips.
Frankly, all those countries that kicked up such a fuss about freedom of travel for Cubans need to go to work now so those citizens can actually exercise that right. It's not about them denying visas to dissidents but their needing to grant ones to everyone else.
The "international community" should decree a one year grace period on all Cubans who want visas. In the area of immigration, Cuba has now opened itself up to the world. Now the only thing needed is for the world to open up to Cuba – as Pope John Paul II proposed.
Among all those nations, the US is the one with the greatest moral responsibility because it was the one that criticized Cuban immigration restrictions the most. It could set an example and give visas to all those Cuban who want to visit their relatives living in the United States.
What's clear is that the illusions of Cubans are deflating every time they make a call to a consulate concerning requirements for obtaining a visa. For the first time they're realizing that behind the wall that just fell is another one that's much higher.
—–
(*) An authorized HT translation of the original published in Spanish by BBC Mundo.