Don't Skimp on Efforts for Life
By Pedro Campos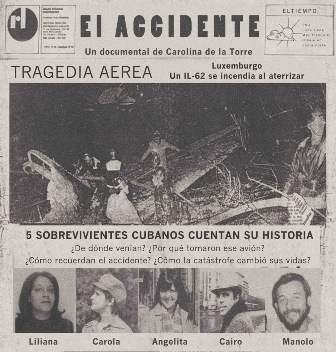 HAVANA TIMES, Feb. 1 — On last December 5th, I was sitting in front of the "little screen" waiting to watch the publicized documentary "El Accidente," directed by Dr. Carolina de la Torre, who is also one of the main characters.  But it never came on.
According to staff at the Cuban Institute of Radio and Television (ICRT), who I phoned to find out about the change in programming, the decision to cancel the film at the last moment was made in light of the recent crash of a Cuban commercial aircraft flying from Santiago de Cuba to Havana.
Last year, on April 13, Psychology Day here on the island, psychologists received a special gift with the premiere of this film at the Infanta Cinema Complex in Havana.  It was featured because of its visual narration of an extraordinary event that involved the lives of five Cuban psychologists who were returning from a conference in Moscow.  They were survivors of an aviation accident that occurred in 1982.
The movie had such an impact on me that I wrote a small commentary with the intention of publishing it some time.  For various reasons I never finished "polishing" it off and it became "old."  However the news that the film would be shown on television during Latin American Cinema Week made me consider reintroducing the essay since it is — in my opinion — of extraordinary value for life.  When I wasn't able to see the film on its scheduled date, I found that much more necessary to present this modest assessment.
Viewers recall moments in their own lives
The narration of that event — 25 years later — reveals epic moments and significant values that were experienced and overcome by Angelita, Carola, Calviño, Liliana and Cairo.  They recounted the dissimilar and complex emotions they suffered in seeing themselves shrouded by the halo of death in that incident; but they especially speak of the impact on their lives from having survived it.
As this involved a kind of "situational group therapy" led by people responsible for helping others face their own experiences, the film acquires an educational value of an extraordinary quality.
The five survivors tremble with emotion in sharing their exciting and contagious stories that make viewers recall moments in their own lives when they could have been close to death.  For our futures, this makes us reassess all the importance and significance of having made it to where we are now and everything that can be implied by our continued living.
When the lights came back on at the end of the film at the Infanta Cinema, I could see tears in the eyes of many people there, but what was especially breathed by the spectators was the desire to live, to live more and better, in an a healthier and more beautiful medium.  I felt that many people were reassessing the meaning of life.  For me, someone who is not a film critic but simply a person interested in each person having a better life, this is what I found to be the greatest merit of the movie.
"Life is beautiful!" I thought, as I recalled the movie of the same name that, likewise, has done so much to stimulate life.  How many things, events and experiences noted by the five psychologists would have been lost to them — including their loved ones, their friends and comrades — if they hadn't survived?
Saved from a second family tragedy
Among the stories — all of which were interesting — an anecdote that was full of feelings and sensations was told by Carolina de la Torre, who traveled to the site of the accident pregnant with a little girl (who was her daughter, Claudia Calviño, and who significantly was also the producer of the documentary).
Carolina refers to the suicide of her brother Benjamin, which occurred when he was confined by UMAP (Military Units to Aid Production), [which were essentially work camps for gays, hippies and any other kind of non-conformist in the 1960s].  In the documentary she says that it would have been devastating for her parents to have lost another son.
Carolina's brother didn't have her luck, nor was he able to get a grip on what would have allowed him to overcome that moment and to continue living.  He wasn't able to ever again enjoy the complexities of life.
If the narration by the group of survivors — especially all the beautiful things they experienced later — is an exhibit of the value of continuing to live, Benjamin's early disappearance is the evidence of the same, though through its negation.
The stunning story is accompanied by the music of Liuba Maria Hevia as well as lyrics and music by Silvio Rodriguez in his work "La Vida" –  which is a song to human existence… that which was, that which could be and that which can continue to be.  I can't say any more; I urge you to try to see it.
We don't always realize that each life is a true miracle of nature.  It is a tiny possibility among millions and millions of other lives that were never possible and among millions of others that were cut short.  Life is the greatest treasure we can possess; that's why life brings us happiness.  Take care of it!  It is one of the most beautiful tasks.  That is what psychologists, psychiatrists and other mental health care workers do daily.
Films like this — with deep human aims that produce optimism and the desire to act, see and live — make us think of the need to not skimp on efforts for life itself, those of our dear and near loved ones, of all those living, of nature, which is to say that which is ours.  Always think of life, of that which is human.
Thanks to Dr. De la Torre, all those who collaborated in making the film possible and those survivors who, on such a significant day, reminded us how beautiful it is to continue living, to continue struggling for and to produce life, emotions and happiness.
Pedro Campos: [email protected]