An Elderly Cuban: Workaholic or Needy?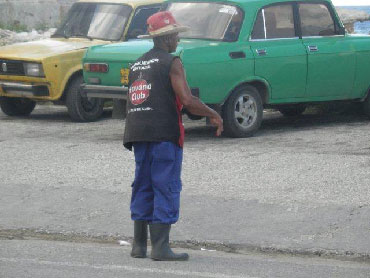 Irina Pino
HAVANA TIMES — At five thirty in the morning, the shrill, loud noise of an obsolete lawn-mower wakes me up.
At first, I am irritated, annoyed. It's Saturday and I should be able to get a bit more sleep. On weekdays, I have to get up early to get my kid ready for school (he's in junior high).
Then I look out the window and see Felix, the gardener who works at the parking lot surrounding my building. He's doing his daily chores: mowing the lawn, cleaning the rows of plants, picking up garbage, etc.
He works even on Saturdays. He follows the same routine every day: when he's done, he goes over to the Sierra Maestra building (belonging to Cuba's CIMEX corporation), where he does more gardening work.
The feeling of irritation quickly goes away. Felix is a hard-working man who is over sixty.
In the afternoon, he puts away his chattels and wipes his dark complexioned face with a moist cloth. He then walks over to another parking lot, the one in front of a shopping complex called La Puntilla, wearing a red and black vest with the words "State Parking Official" printed on the back.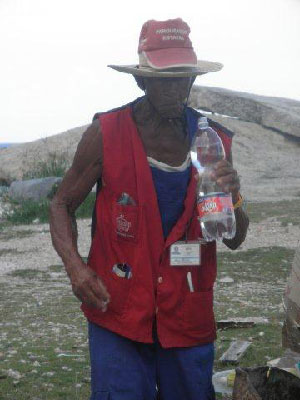 He wears high rubber boots, a pair of jeans and a thatched hat. He works there until six in the afternoon.
Whenever I walk past him, I say hello and ask him why he works so hard. He replies with a half-smile and tells me he likes keeping busy, because he lives alone in a tiny room in a tenement building, that he has no family. He doesn't even watch television. The television set he had was too old and no one had the pieces needed to fix it.
All he does at night is listen to the radio. He prefers classical and instrumental music programs, says they help him relax and sleep better.
His gardening salary isn't enough to live on, which is why he decided to become a parking attendant (many people in this upscale part of the city drive to the shopping complex).
Parking officials pay a moderate State tax. Car owners usually pay them a dime (in Cuban Convertible Pesos). Tourists and some Cubans sometimes pay him as much as 25 cents. The more cars that park, the more money they make. On some days, however, Felix has walked away with less than 1 CUC.
At the end of the working day, he walks away, without his vest and hat, his tool case slung over his shoulder, his bald head exposed. He doesn't seem to be at all tired. Quite the contrary, he seems to be in a hurry.
He walks over to the bus stop to catch the P5 (he lives in the old town). It's quite a ways from Havana's posh residential neighborhood of Miramar.