Flying Higher Doesn't Mean a Better Flight
By Amrit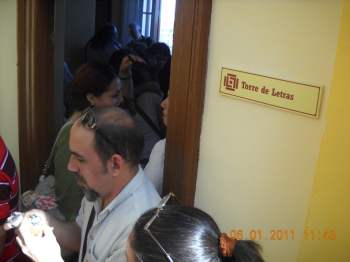 HAVANA TIMES, Feb. 14 – When I arrived at the "Torre de Letras" (Tower of Words) poetry reading, a project directed by Cuban writer Reina Maria Rodriguez (in my opinion, one of the greatest literary voices of Cuba and the Americas), I already knew what I would find: the place was packed.
There was no room to get through the door, so I stayed in the corridor and quit trying to hear any of the verses being read by the poets inside.  They were in front of those people who had come early and were enjoying the privilege of celebrating the project's ten years of existence.
But I wondered: if this reduction in space was a symbol of the little space (real, not metaphoric space) that's being provided for Cuban art, what were we really celebrating?  Yet I answered my own question: we were celebrating the tenacity of those who continue coming here, despite these tangible physical restrictions.
The last time I came, because I had to keep my head in a certain position to be able to see the screen on the wall where the guest artist projected her images, I ended up with a terrible neck ache.  This is without even mentioning the torment of having to hold off from going to the bathroom since it would have been such a nuisance to walk through the already jam-packed crowd making people get up to let me through; that would have been a true act of sabotaging the presentation.
I thought about how different everything was when the site of the Torre readings was on the top floor of the Palacio de la Segundo Cabo, which is also in Old Havana.  There one could find those long tables that we had the nerve to complain so much about for their formality!  One never knows what will happen from one day to next, or in the next minute.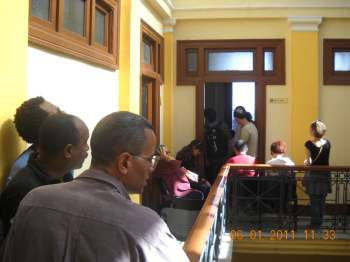 With the forced relocation of the Cuban Book Institute to the tallest building on Obispo Street, which is also Old Havana, the Torre once again had to move to a top floor.  It was much higher, true, but we were moving into a hole where maybe ten people could fit comfortably.
As I couldn't see inside the poetry reading, I passed the time imagining as if people were outside, on the balcony, how they would all look lined up against the wall.  I should have felt like I was at a party, but what I felt was sadness.  I looked around and recognized a friend who's a poet, and who's also recognized and award-winning.
But nor was there happiness in his gaze, only fatigue.  When I greeted him, I discovered that I was hoping for the moment when he would tell me what I didn't want to hear: "I'm tired. I'm going to leave this country."
That's what happened to another friend who only a few months ago spoke enthusiastically about proposing public debates, exposing problems and achieving consensuses.  Recently she told me that she felt suffocated and apathetic, that the desire to raise her voice in protest for something continues but with the certainty that nothing is going to change.  "Up until last year I believed that it could be done," she told me, "…that it was only question of uniting lots of good people to make the change, to achieve it."
I continue wondering if this dump we now have is the award to the Torre for having organized forums that are now indelible for art of Cuba and the world; for having published and distributed the most uplifting of poetry, with bilingual editions distributed for free; for having helped us to learn of Cuban poets who live in exile; for having made us "eat" — as Reina Maria says — exquisite writing, unforgettable for the soul.  How can we believe not in the good "physical" health of Cuban art, but in its moral health?
Why artists don't struggle together
What soon came to my mind was that question posed by Van Gogh: "Why don't artists join hands to struggle together, like soldiers in the same ranks?"  I also thought how his innocence, like the narrowness of this space, shamed me, because I know the selfishness that is shown by artists themselves, and that is the substance that makes corruption possible.
Once recognized and "officialized," which is to say insured against anonymity and uncertainty, this selfishness is still more ferocious because it brings with it the fear of losing what has been won.  It shames me to expect poetry to be valued when, outside of here, the art that proliferates is increasingly banal; and given that, I know how much the potential risk of unconsciousness is institutionally ignored.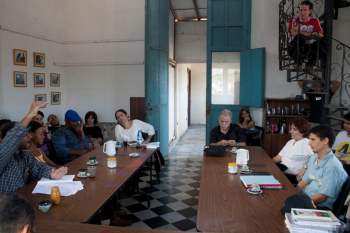 In a society where the overwhelming majority of youth not only don't read, but they speak worse and worse every day, and they are voracious consumers of reggaeton and all types of flashy junk, this physical cutting back on poetry is only a symptom of the true illness that is eating away at us as a nation.  It is a spiritual metastasis.
Van Gogh's question vanished in the air that blew in off the bay when the applause erupted.  People started to move despite the limitations of space, and the entire audience began to get ready to enjoy the refreshments.  Surely, what remains of any questioning will fade away like the flavor of some sweet or a soda.  After all, inertia is much more pleasant than tenacity.