Frivolity Penetrates Cubans' Souls
Irina Echarry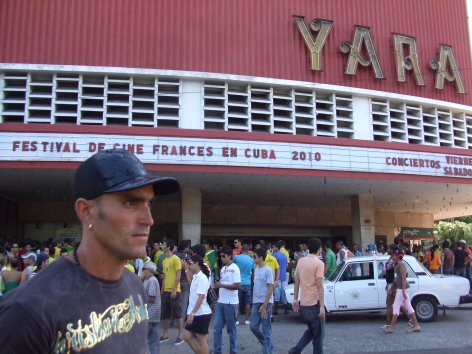 HAVANA TIMES, July 3 — Ever since I was little, the word "frivolity" attracted my attention.  To me it seemed beautiful, mesmerizing, at least until I found out its meaning.  Up until that time I'd been attracted to the term because of a fabric that was named after the word's French version: frivolité.  It was something purely semantic.
It was its sound that I liked.  Over the years, I've lost the pleasure in it, seeing how it does damage to people.  It keeps them on the surface of things, preventing them from digging until finding the essence of things, limiting them to looking without seeing, without committing themselves.
This can be seen in movies here.  Cubans still have the privilege of enjoying a wide variety of films throughout the whole year.  To be sincere though, it's becoming increasingly unbearable to withstand the heat in cinemas.  Though these facilities were designed for air conditioning, for the most part those systems don't work; movie watchers are cooled only by the draft that may or may not come in through open doors, distant from where we sit.  Even still, it's an opportunity to travel to places where physically we cannot venture, for one reason or another.
In this way I traveled as far as Vietnam.  A film series took us on a journey through the cities and rural parts of that country, as well as through its past history and into the daily lives of its ordinary people.  Yet, by showing these features, the Infanta Cinema stayed empty the whole week.  Only five or six of us showed up.
The Cinemateca de Cuba projects jewels on its screens, but similarly it serves a minimally sized circle.  Presented there are major directors, who people are unaware of but whose works are nonetheless shown in this and other cinemas without attracting the public.
The great masses hold out for commercial and frivolous movies.  So, when the Havana International Film Festival arrives and the theaters are overflowing, the image is left that Cubans are movie buffs, but that's not true.
Currently the annual Festival of French Cinema has arrived.  The auditoriums stay packed for each show.  Despite the heat, people stoically withstand it watching light comedies.  Complacent and smiling, they applaud the directors and actors.
Just the opposite occurred with a fascinating series on Haitian cinema, where documentaries brought us closer to that country, its poverty, its people and their hopes from the most human of vantage points, without politics corrupting the aims of the films.
I can't stop comparing the public's reaction to a French movie, Pink and Black. It was well made but so light that it barely gave you a chance to savor the scenery or the performances.  Nonetheless, people couldn't stop of laughing at the foolishness, as they sweated buckets.
Upon leaving the cinema, people who I consider intelligent highlighted that the comedy served "to refresh, to amuse," though they admitted they didn't go see the Haitian films; they had enough problems in their own homes, they explained.  I didn't doubt that, we all have problems.
The same was true of Haiti Cherie, a movie that is spine-chilling for the reality it depicts; it went by unnoticed by the great masses.  The Mesa Redonda (Cuba's evening news/commentary program) has dedicated several broadcasts to Haiti [where hundreds of Cuban doctors are working], but none was as hard hitting as the vision presented in the film.  It showed the story of many Haitian workers who secretly escaped from the political and economic violence of their country and, seeking a better life, took refuge in the Dominican Republic.
There they become cane cutters and remain exploited, humiliated, and living under infra-human conditions in a modern form of slavery.
The Infanta Cinema is the only theater that currently has working air conditioning during its projections.  It would be necessary to see what occurs inside the mind of each person who prefers "to refresh" themselves inside packed, overheated halls without any ventilation, instead of coming closer to the misery of another country, in an empty room with good air conditioning.
Could it be that frivolité (however well knitted together it may be) has submerged the sensitivity of people and made them unable to discern what has greater benefit?  Or, perhaps, people prefer to feel physically uncomfortable, without letting anything distant move their spirit?
In any case, the matter is serious and worthy of being analyzed by sociologists, of course sociologists who have not been contaminated with the syndrome of frivolity.