Further Tightening the Screw
Warhol P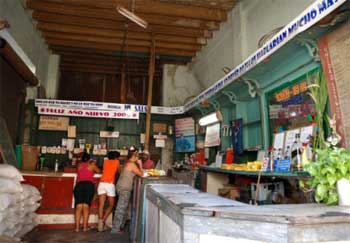 HAVANA TIMES — A few days ago I got the information* through my e-mail about a new tax being imposed on travelers who bring in food products into the country in their luggage. Such nourishment is NOT in commercial quantities, but is to help feed their families.
This tax was levied prior to 2008, but because of the impact of three powerful hurricanes that year, its collection was suspended. Now, however, that same tax is being reinstated.
I wonder why, after four years have elapsed, it's now necessary to restore and enforce this tax on food, bearing in mind that although we haven't been hit by any major hurricane recently, the current situation in Cuba with respect to food is extremely difficult.
I would like to know why they are tightening the screws on Cubans, whether the traveler is a resident on the island or abroad.
I am expressing my objection but I should explain that I have never benefited from this law because I don't get food from anywhere in the world.
I'm speaking on behalf of thousands of Cubans who do have family members who come to the island with food and who in some way help soothe the difficult situation that we all know exists.
Now, suddenly, they have to start paying for bringing these so-called miscellaneous items.
Our current president has said we do need to end some of the existing subsidies and gratuities provided by the government. So I guess this is one of them, which came to us thanks to a couple of little storms.
But now, abruptly — after not having had bad weather for a long time, and apparently with Cubans having food readily at hand — it's all over, the government has to eliminate the exemption.
Speaking of freebies, and to conclude, I ask what would happen if suddenly hundreds of Cubans who donate blood for free decided not to do that anymore?

(*) INFORMATIONAL NOTICE OF THE GENERAL CUSTOMS OFFICE OF THE REPUBLIC
Since 2008, as a consequence of damage and losses brought about by hurricanes that hit our country, and their economic and social impacts, temporary and exceptional allowances were allowed for Cuban travelers (residents of the island or not) to import food, with these items being made exempt from the payment of established customs duties (tariffs), an exemption that has been maintained to date.
Given that soon we will be marking four years of the application of that measure, it is necessary to restore, beginning June 18, 2012, the payment of customs duties on food imports by travelers, according to the regulation in Executive Order No. 22 of April 16, 1979 in the "Customs Duties of the Republic of Cuba for Non-commercial Imports."
Similarly, in order to maintain organizational agility and efficiency, as well as to ensure the proper treatment of travelers during the exercise of customs operations, it is important to note that Resolution No. 11 of 2007 of the General Customs of the Republic in its regulation 5, subsection "c," concerning miscellaneous items, provides an exemption of 10 kg of medicines provided these are separated from all other luggage items.
The General Customs of the Republic shall keep passengers informed about any specific directive issued in relation to food imports.