Haiti: Crippling Poverty for Daring to be Free
by Alberto N Jones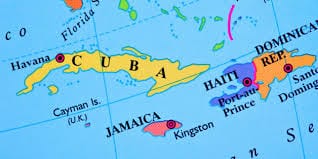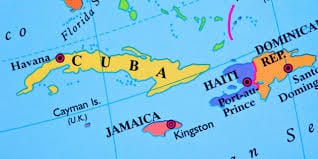 HAVANA TIMES — The first successful slave uprising happened in Haiti when French occupying forces were defeated and an independent republic was born on January 1, 1804. Haiti has never received the deserved international recognition and homage this monumental accomplishment deserves.
Bent on not allowing this pernicious example to spread as an example to follow, France with the help of the United States and western Europe, imposed on Haiti a most brutal, stringent and devastating retaliatory punishment.
Like it was with the failed slave uprising led by Spartacus 1000 years earlier, when Rome mercilessly crushed it by hanging most of the slaves on the Via Apia, Haitians have been punished with centuries of hangings with illiteracy, poverty, disease, political divisions, invasions and dictators, who have stolen its resources, preyed on that martyred nation and turned it into the poorest country in this hemisphere.
Haiti has also been beset by earthquakes, flooding and hurricanes, which have caused nearly a million deaths. Compounding these tragedies are a cruel, greedy bunch of social, religious and political crooks, who have betrayed the trust of millions of heartbroken people around the world, who opened their hearts and donated unquantifiable amount of resources for the victims in Haiti, which vanish without a trail. The post-earthquake in 2010 is exhibit A of this immorality.
Left with a desolated, ruined island with a myriad of ills, migration is the only survival tool for millions, who then contribute their hard work, intellect, resourcefulness, loyalty and billions of dollars to  the development of their newly adopted country  in the US,  France or Canada with little gratitude or recognition.
Cuba is Haiti's most reliable and faithful friend. Although Cuba is suffering from a severe financial downturn, Cuba has contributed more to Haiti's health, education, sports, culture and medical training than the United States and all G-8 nations combined.  Venezuela has played a pivotal role in its survival. by providing quantities of cheap oil and long term credits, which has prevented Haiti's impending financial collapse.
Nevertheless, Cuba contracted an unpayable debt of gratitude with Haiti, when thousands of men and women were lured to our country, where they became the backbone of the sugarcane industry, which demanded endless hours in a scorching sun and with their sweat, tears, hunger, blood, sickness and deaths, they turned Cuba into the largest sugar producing country in the world and coffee, cacao, plantain and coconut became an important staple worth millions of dollars.
And yet, Haitians were victim of xenophobia, racism, political expediency and demagoguery leading to a mass deportation in the 1930's and Haitian migrant workers were banned in Cuba from 1960 to this day.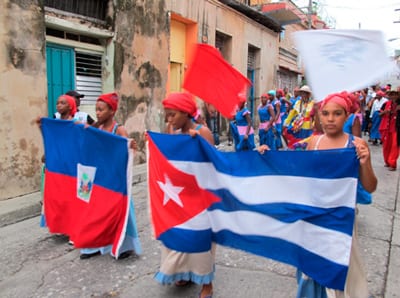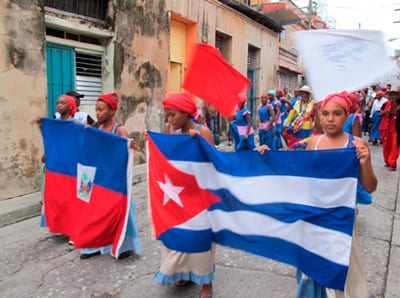 The resilience of the Haitian community is evident in the sciences, arts, medicine, sports and others.  At the Athens Olympic Games in 2004, 5 out of the 9 gold medalists for Cuba went to Osleidys Menendez, Mario Kindelan, Guillermo Rigondeaux, Yan Barthelemy and Yumisleidis Cumba, joining another 50 plus athletes winners of Olympic Gold, Silver and Bronze medals including three times Olympic World Boxing Champion Felix Savon, all of whom trace their roots back to Haiti.
Chico Cuba was a sugarcane labor leader who was gunned down in Guantanamo in 1944 defending their rights and Emilio Barcena Pier fell in combat during the insurrection in 1957, but no Haitian in Cuba compares to the exemplary history of Adrien Sanciricqc, who was a 5th year medical student in Mexico when he learned of the mass migration of Cuban doctors to the United States in the early 60's.  He packed his bags, registered in Med. School in Havana, upon graduation was assigned to work in the Sierra Maestra mountains where he excelled and became head of epidemiology in that region.
Back in Havana he was designated head of medical services at the all import Tri Continental Meeting with the presence of tens of Heads of State.  He later travelled to Africa with Che Guevara as his doctor and personal translator. Torn apart by the horrific abuses and crimes of the Duvalier regime, he sneaked into the country, began organizing anti-government groups when he was killed in a shoot-out with government forces at age 32.
Proposal
Haiti, Maisi and Baracoa are separated by less than 80 Kms. of ocean as they lay in ruins by Hurricane Matthew.  Cuba will recover, while Haiti will be ripped-off once again by the same perpetrators and outbreaks of transmissible diseases loom high over the horizon.  The time has come for Cuba to stand tall, do what it has so many times before and teach the world the full meaning of solidarity by  seriously considering to remove the obsolete, mutually damaging freeze on Haitian migration, when both countries need each other most.
An aging population, millions of acres of follow lands, an educated population refusing to work in the fields, a severe contraction of food production in Cuba and the potential of restoring the enviable export production levels the country once enjoyed, are some of the irrefutable evidence supporting this potential project.
Given the opportunity, Haitian migrants would transform Cuba into the premier agricultural producer in the region, a garden of Eden that could allow them to build hurricane-resistant homes for their family in Haiti, pay for the education of the children in Cuba and extrapolate from the exemplary men and women of Haitian descent who would have brought countless glory to Cuba if their parents had been deported eighty years ago.