Havana and its Ruins, with Eyes Closed
By Ernesto Perez Castillo (Progreso Semanal)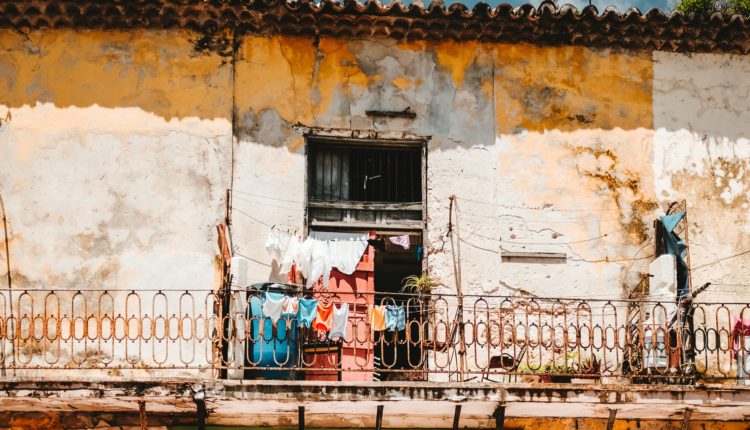 HAVANA TIMES – Bumming around may be useful for something. Touring the city aimlessly, wherever the wind might take me and until my feet tire, I face the reality that before I took that first step, it was distant, unknown, unsuspected. Streets and alleys, they take me to that other city in ruins within the city, which is the real city, the one where people live, where the mystery of everyday life happens against all odds.
One afternoon you discover that heavy and menacing balcony railing made of cast iron, rusty and dislodged, which seems to float over the heads of the innocent below it. There's that lovely one that surprises you, of Moorish architecture with slender, twisted columns that are about to collapse.
Then there's the mahogany door illuminated by the carving of a past and patient hand, already with its decayed staves, which years ago lost its shine and the battle against the humidity of the nearby and eternal sewer waters, which rots with no remedy insight. Or that open window without blinds with its dirty glass.
Over there is the pile of broken bricks, the stagnant puddle with sewage, the crumbling of all sorts of debris, dust and wood sedimented forever in the corner. I imagine the stupor of the stranger who lands in Havana and stumbles upon the traces of that war that has not been and has not happened, and that hopefully never occurs.
I look at those neighborhoods and understand why I'm not even a little impressed by the images of recently bombed cities in the news: I've seen it all; it's been my environment. I was born there. In the midst of the chaos, I live there.
The fallen and lost, the consummated collapses and still, but yet there exists what still resists. Yes, that which against all logic endures in the most precarious of circumstances. Where nobody understands the how and why, or until when, it will sustain itself. Necessity is the mother of invention, they say. It's why they call it for no good reason: miraculous static.
Suddenly, as I return from walking in the helpless night, a dark idea comes to me. What if there were more, and if it really was worse than what I have already seen? And if that is not the end, but the beginning? Not the cause, but just the effect? Not the problem, but the symptoms? Neither alpha nor omega, but what is in between. And if we don't realize that there is no time left?
I then remember a theory that claims that a disorderly room or house reflects a cluttered mind. And then I think that the situation could turn grave, heavy, irresistible.
Because based on that theory this destroyed city long-now on the verge of disaster and barely standing, miraculously held-up stone on top of stone which seems to fall apart but endures until tomorrow, God willing, is the natural reflection of a higher power, above all things, a superior conscience and perhaps collective that can't do more for it, or who does it wrongly, or not knows what it does. It's a precarious equilibrium above and below; a miraculous static everywhere.
That would be the case of a mind that refuses to look down, or look around itself and passes through the ruins with eyes closed — or looking elsewhere. It does not care what happens, what it steps on, and believes it does not affect it without consideration for the shipwreck to come.
I wish it were not true because it is a beautiful city, but too often the beauty can only be found between the lines, and almost by guessing, and one has to dig through the grey below the rust and corrosive saltpeter to catch a glimpse of the city that was, and what it can be.
That is life. I hope that those at the top do know what they are doing, and that if they do not do more, it is only because they cannot. And if one day they are able to they not waste time and miss the opportunities to definitely organize what I hope is a temporary and soon to be alien disorder.