Havana Before the Aroma of Chanel Fades Away
By Yusimí Rodríguez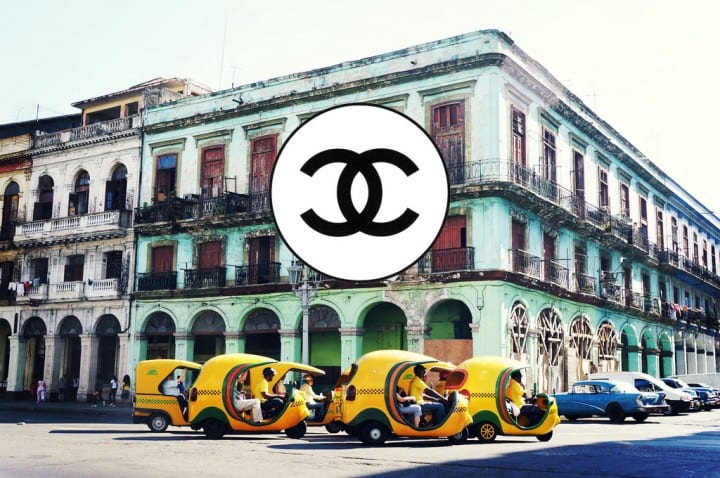 HAVANA TIMES — People in Havana are still talking about the Chanel fashion show, sharing the occasional bit of gossip, an anecdote, something that bothered them.
No one has anything to say about the 2016-2017 Cruiser collection that Karl Lagerfeld brought to Prado Street. The only items of clothing those of us gullible enough to think we would be able to see the fashion show got to see were the uniforms of the police officers and agents tasked with keeping out anyone hoping to get close to the promenade.
Some can say they saw something from their balconies or from a block away. That's how a friend saw it. After running into the police cordon several times, he came upon an area where he was able to see the "models walk from one place to the other. I couldn't see any of the details of the clothes, but I saw them." As though that weren't enough, three different photographers (who also were unable to access the show area) took his picture and asked for his contact information. Now, his photo is going around social networks. "It's a video with stills, I think it's called 'The most spectacular photos of Chanel's Havana fashion show.' And I'm in them. All of my friends who live abroad have seen me."
That is how he will remember May 3rd, the historical Tuesday in which Karl Lagerfeld, the Keiser of fashion, star designer for Chanel, put his collection on display at Havana's Prado promenade. When the aroma of Chanel has finally vanished from Havana, my friend will not stop to think that those who demonized capitalism for many years and foisted hunger and privation upon us to save the "homeland, the revolution and socialism," those who imposed egalitarianism on Cuba, have now opened the country's doors to a capitalist system that took control of an entire avenue for several hours to stage a private fashion show, for the enjoyment of an elite. No, what's important for my friend is that he was there, a block away from the show.
That is slowly becoming what's essential: being there, in some fashion, having gotten a glimpse of Lagerfeld's show, taking a selfie next to Vin Diesel, getting an autograph we can show off later. Lagerfeld and Vin Diesel in Cuba, the same week. Car chases and a cruise ship that close streets off, bring traffic to a standstill and force private shops to close. The same private businesses, from a telephone company to a street vendor's cart, which the eternal leader of the Cuban revolution, Fidel Castro, shut down in 1968 to eliminate "the last vestige of the bourgeoisie."
Today, Cuba's new bourgeoisie goes around Havana in vintage American cars, enjoys a private fashion show, staged in a public space, and has a private dinner at the Cathedral. For this new bourgeoisie, there is no contradiction between singing a Silvio Rodriguez song or yelling a patriotic slogan and watching a Chanel fashion show while people are kept at bay by the police.
There is no contradiction between speaking of justice and equality, like Mariela Castro did in a recent interview published by Granma, and being part of the elite that enjoys fashion shows and dinners that require streets and shops to be closed down. The shoot of Fast & Furious 8 also required private shops to close down for a few days, but at least the owners were financially compensated.
The vicinity of the Cathedral is an enviable place for any private business in Havana, but it wasn't so on May 3. That day, all streets leading to the Cathedral were closed several hours before the show. I found this out when I tried to take my mother to a coffee shop located in the area at around 4 in the afternoon. We weren't able to reach the place.
A week later, I found out it would have been pointless anyways. The owners of the private establishments in the area had received the order to keep them closed. The order was handed down from local authorities. No one was financially compensated. They were not graced by the aroma of Chanel.
Private businesses in today's Cuba have absorbed the workforce the State has been unable to employ (or would employ for a measly salary). They are an alternative that is improving the standard of living of many families (to the extent that the Party allows, as it announced during its last congress) and helping to hold back the economic collapse of the country. However, it suffices for one of the once-demonized capitalists to show up, one with the financial power the Party will not allow Cuba's private sector to have, for businesses to have to close up shop.
Did local authorities think to ask Chanel for financial compensation for the inconvenience they caused small business owners and entrepreneurs? The privilege of seeing a Karl Lagerfeld show in Havana was sufficient compensation for them? And, if there was some kind of payment, where did it end up?