Havana's Bar Rosi, Where People Meet and Care for Each Other
By Vicente Morin Aguado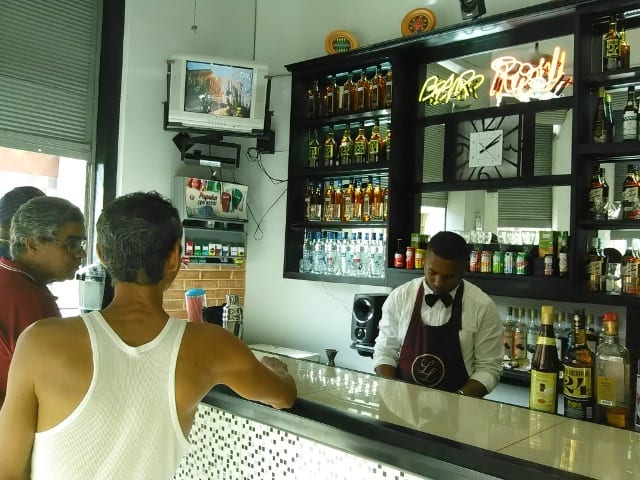 HAVANA TIMES — Recently, a friend from Bar Rosi, a regular customer, suffered a heart attack, the third one in his 60 years, and he is still at the Freyre de Andrade hospital in Central Havana,  which people call the Emergency Hospital. Not very common in these times of great insenstivity, his companions at Bar Rosi organized a collection for him, buying natural juices for the sick man.
"El Rosi", as the bar is known in the La Victoria neighborhood, has the privilege of being located on the corner of Subirana and Desague streets, a very busy spot in the neighborhood because there is a state-run agro-market opposite and a store that wholesales at retails prices items in hard currency: drinks, some food and building materials for homes.
Several companies situated in the same area make up the rest of the customers who in true Cuban style hop over to the bar to have a drink in the morning, afternoon and even at night. The striking thing about all of this is the relationships that form between the bar's vast clientele.
El Rosi used to be an abandoned state-run cafe and is now being independently run, after it was renovated in an efficient manner by its new managers. The difference between the old hovel and its beautiful current design stands out, as well as the wide offer of drinks and alcoholic drinks, suited to all ages and tastes.
It's hard to go there and leave without having a drink, even when a friend doesn't have the means, another one always comes along to buy him one. Solidarity prevails at all times. Recorded Cuban music plays, which the two barmen (who work alternative days) put on.
The TV available for everyone to watch plays music videos but sports are given priority, especially international football and national baseball, creating the right atmosphere for loud controversial arguments that are a feature of Cuban idiosincrasy.
Tourists renting out accommodation in the great number of homes that legally offer this service in the area also come by regularly. They are happy when they leave because they are charged in Cuban pesos, at a similar price to locals, while exchanging their ideas on Cuba's controversial reality with those present.
People above 40 dominate the bar, although the neighborhood's youth aren't excluded. Everyone is in respectful harmony with who we call the "pure ones" here, that is to say, people in their third age (if such an age exists).
A distinctive feature identifies drinkers… as a rule, they always shake their hands with the others, without discriminating against anyone. Nobody ignores this kind of attention to their fellow countrymen.
Going to El Rosi once is like never leaving. This is where its magic and the success of those who promote and run the bar food lies.
Vicente Morin Aguado: [email protected]