By Alfredo Fernandez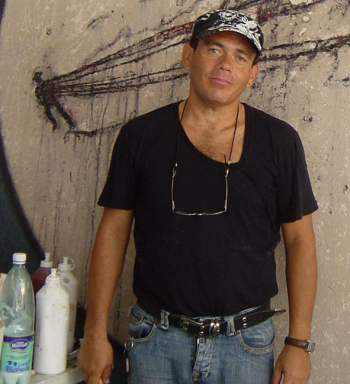 HAVANA TIMES, April 3 — A friend called me to ask what I knew about the accusation made against Cuban artist Agustin Bejarano.  It seems that during a recent trip to Miami by him and his wife to attend the Latin American Art Arteamericas Fair, he was arrested by the local authorities under the sensitive charge of pedophilia.
I responded to my friend saying I wasn't familiar with the matter, at which time he shared with me what he knew and informed me that among Cuban artists and the Miami media, no one was talking about anything else.
It seems the painter and his wife, Aziyadee Ruiz, had taken advantage of an opportunity to visit Miami to celebrate the birthday of the sister of Aziyadee's grandmother, who turned 80 on March 20.  Once there, they also shared in a family dinner along with her cousin, her cousin's husband and their five-year-old son.  Also present that evening were the inevitable games of dominos and shots of rum, which almost all of us Cubans like.
According to the version of the minor's mother: "My son told me that Bejarano entered the room where he was sleeping, and that Bejarano stopped in front of the closet door, pulled down his own zipper and then took my sons hand and made him touch this man's privates," she described emotionally.
Another version
But according to the version of Cuban artist Elsa Mora, a Miami resident and personal friend of Bejarano, "He went to use the bathroom, and in a question of seconds the five-year-old — a very restless and active boy — opened the bathroom door, and in a somewhat aggressive but playful mood tried to touch the man's genitals.  Surprised, Bejarano immediately made the child leave."
Although the artist apparently confessed to the crime at the time of his arrest, according to the police report, all of this is very difficult to believe for the friends of Bejarano on the island.
What I personally know about the incident came to me after an inquiry I made via informal means immediately after my friend became aware of the painful event.  I had to ask other friends overseas for information about the matter because in trying to do a Google search from here in Cuba, everything related to the Bejarano case had been blocked.
No matter what the truth is behind this event, and despite Bejarano being a great artist and a good family man, I'm sad to say that if he's convicted of the charge he will face years behind bars.  However, what would be more painful — though I don't believe it to be the case — would be if the matter had a political basis to the advantage of one side or the other in the USA-Cuba dispute.
Because it's a secret to no one that cultural exchange between Cuba and the US is stomached by neither the Cuban government nor a sector of Cuban artists in Miami.  Both are tired of seeing someone come from the island only to take a place that was often prohibited of them (referring to Miami artists), to later see them return to Havana loaded with money.  In the case of the Cuban government, they are fed up with seeing those same Cuban artists make appearances on "anti-Cuban" TV programs with Maria Elvira," Paparazzi, Alexis Valdes and others.
What frightens me the most is that while this news came out in the headlines of a good part of the media in the United States and the case was read about by the Cuban diaspora, we Cubans on the island could only find out about it thanks to Graham Bell's old invention (the telephone) or by e-mails, whose access is a privilege in Cuba.  Only in this way could I receive the sad news copied, pasted and sent to me as MS Word documents from friends living abroad.
I wonder when the Cuban media will begin covering hard news (such as this situation in which this artist has found himself), and cease focusing attention on much less important matters (for example "Weed Cutters Over-fulfill Target," a story that made national headlines recently).
After learning about Bejarano's case, I knocked on the door of my neighbor, a professor of child psychology at the University of Havana, and asked her if a boy could be manipulated by his parents to make such an accusation.  She responded that this would be something exceedingly difficult, because certainly the child was interviewed by justice system professionals, who undoubtedly have a clear understanding that the concept of lying is nonexistent in a five year-old.  At that age, the framework of the lie has still not been structured, and much less one that could deal with the complexity of sex.
As we Cubans say, "What will be, will be."  Though I'm not a friend of Bejarano, I would never want to see such a sad end for such a good artist.