By Irina Pino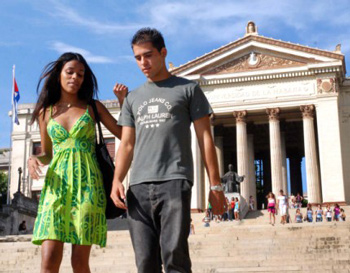 HAVANA TIMES — The first words out of her mouth were: "I slept with a black man." That direct phrase left me speechless. After all, it wasn't like my friend to say such things. I wanted to know more, but I noticed she wasn't comfortable talking about it.
A few weeks later, I ran into her at an exhibition in a gallery in Old Havana and invited her to a cup of hot chocolate. While the steaming cups cooled a bit, I decided to ask her about the incident. This time, she dredged up the courage to talk about her experience.
They had met during the recent Havana Film Festival. They had a chat before going to see a movie and after it ended. She told me the conversation was interesting and that they had similar tastes in movies and art in general. They had identified with one another.
She had begun to kiss and embrace the young man, but something in her head was telling her that was wrong. She would ask herself how she could possibly like this man when, her whole life, at home, her family had filled her with hatred towards the black race. Whenever she had invited classmates to study at home, her mother had asked if all of them were white, like she was.
The seed of discrimination had been firmly planted in her mind and, even though she felt no hatred towards blacks, she never seriously considered a romantic relationship with a black man – not even with a man of mixed race. She didn't know what to do, whether to give in to passion or allow her prejudices to take root even more firmly.
They had agreed to see each other and had had two or three dates afterwards. In one of them, they were alone at his place and the thing she had avoided all her life happened. She had sex with a black man. She had been disconcerted by the fact she experienced pleasure – as though she were with a white man, that the difference in skin color had no say in anything, that it was something completely spiritual.
Later, when they had caught the bus together, he had tried to hug her, stand close to her, but she had instinctively pulled back, looking out of the corner of her eye at the people around her, worried about what they might think about that relationship of "theirs." She avoided his calls and meeting with him in the days that followed. She erased him from her memory, as though the experience had not been real.
I've tried to avoid arriving at any conclusion about this story. I only wish to express how much damage our parents, our families, the media and even our schools can do us. Segregation has never ceased to exist, but love should know no segregation of any kind. After all, do souls have color?