More on Cuba's Free Education for All
By Repatriado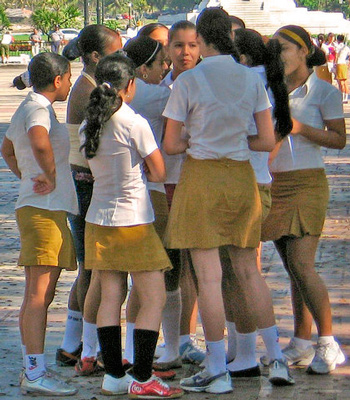 HAVANA TIMES – Even though it sounds awful to say it, my wife and I were counting down the days until school began again. Almost three months of holidays with two energetic kids at home are honestly very exhausting, as well as the stress spending money to give them more or less an enjoyable vacation is on our family budget.
However, the start of the new school year didn't give us the peace of mind we were hoping for.
My son who started 5th grade this year, doesn't have a classroom yet. The room they had last year isn't big enough for the new class, so classes are being taught in the school corridor "until they find a solution", the school notified us.
However, this is incidental when compared to my daughter's experience, who has just started preschool.
As the teacher last year had been accused of physically abusing the children after several anonymous letters had been written, she won't be teaching this year, but she is now the director of a daycare-center.
The day preschool started, we were introduced to the new preschool teacher, a 60-something year old woman who introduced herself by saying just how revolutionary she was and how much she owed to the Revolution and to Fidel, as a black woman. My wife and I ignore any ideological indoctrination as it runs throughout our entire education system and we can't tilt at windmills, however, we were very happy to see that the new teacher was experienced.
The other day, when we went to take our daughter, we found out that the most revolutionary teacher was no longer the preschool teacher, she had left the school and the teaching assistant was going to take over the classes; an extremely young girl who we know from the neighborhood, who isn't qualified to teach, not to mention educate, but what can we do?
As you can see, our stress levels didn't fall when the new school year began, but you would think that as education is free at least our financial spending has stopped. Wrong.
For starters, the head of the school, who we have a better relationship with because we take small gifts whenever we can, asked me, with a big smile on her face, to give her credit as her phone was "dry", those 5 CUC ensured I could go to her with anything my kids need.
Now, let's work out this free education business.
My son's English classes, because his school has never had a language teacher, cost 12 CUC (=USD) per month; his art classes, because his school doesn't have an arts teacher, cost 4 CUC per month; his sports classes, because there isn't a P.E. teacher at the school, cost 12 CUC per month.
We've decided not to put our daughter in language lessons yet so we can save a little, but she goes to dance classes, 8 CUC per month, and she also goes swimming because she is asthmatic, 25 CUC per month which we pay at a small private swimming pool, the only option we can afford.
Our children are at school from 8 AM to 4:20 PM and they are only given lunch which consists of white rice, the odd black bean and a piece of bread in all of that time, which tastes and looks horrible, and also comes in tiny portions. It's therefore compulsory for us to send them with a snack and protein supplement for lunch, which costs approximately 35 CUC per month for both of them.
If we add all of that up, our children's free education costs us 96 CUC, approximately 100 USD per month.
Bearing in mind just how ridiculous education costs are, especially further education, in some countries, 100 USD per month for our children might make you laugh, but if you take into account the fact that my wife, a specialist doctor, only earns 54 USD per month, you won't want to laugh any more.