My Strange Adventure with The Man Who Loved Dogs
Vicente Morin Aguado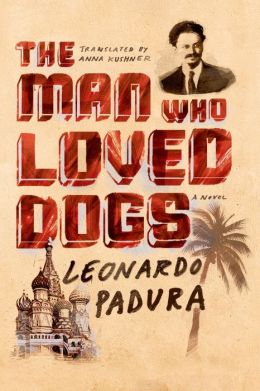 HAVANA TIMES — It was a warm morning during Cuba's inaptly-called winter. I had almost run into a group of Americans across the street from the awe-inspiring, Gothic Sagrado Corazon church, while heading down Havana's Reina street. These Americans weren't interested in religion. They asked me about the book The Man Who Loved Dogs. We agreed to meet up the following day at La Cabaña, a former Spanish fortress, where the author, Cuban novelist Leonardo Padura was supposed to be that day.
Getting into the fortress was no easy task. There was a long line of people waiting in front of the booth selling tickets in Cuban pesos, and a much shorter queue offering the same tickets to tourists, in Cuban Convertible Pesos. Solidarity finally worked a miracle and we were able to meet right in front of the old draw-bridge of the fortress, of great interest to King Charles III (who spent a fortune in its construction). Havana's 2011 International Book Fair was underway inside. Whether Padura had actually attended or not was not my problem at that point.
We never did find the sought-after dog man, but we did come across a whole lot of literature. For the first time in my life, I was able to get my hands on a Trotskyist text, a gift from one of these friends from Berkeley, renowned for its left-wing traditions (traditions that are perhaps a bit outrageous, as all ideological currents in the United States tend to be).
At noon, the growing hunger of the newly-arrived prevailed over their literary interests and we ended up having lunch at a private restaurant in Old Havana. I talked so much that I ended up spending ten dollars on a steak that is normally too rich for the average Cuban's blood. My friends from California were evidently set on seeing the writer that was the talk of the day: in the afternoon, they headed straight to a special presentation by Padura that was being held in Vedado, where my presence entailed paying me a few dollars more than provided for by the tacit agreement I had with these four recent American acquaintances.
One of them (who, out of concern over legal repercussions in his country, will remain nameless) ended up having dinner at my place, where we discussed the controversial relations between our countries at length. Finally, this rather dry American (as he described himself) gave me as a gift the first computer I have owned in fifty-five years. Days later, I would write my first article for Havana Times.
After that day, I could not get the man who loved dogs out of my mind, as Padura's book of the same name cannot be purchased at Cuban bookstores. Our man of letters, Leonardo, is sold only in hard currency, his works hijacked, from what I hear, by exclusive contracts that place the books well out of the reach of the inhabitants of Mantilla – the humble neighborhood where the author still resides.
Three years later, I was invited to take part in the 24th annual conference of the ASCE, an association devoted to the study of the Cuban economy. A generous reader of Havana Times who lives in Miami offered me his home and the first thing I did on the Internet was to look for literature (an activity that my host also considered worthwhile). I was set on finally meeting Lev Dadidovich Bronstein, one of history's many remarkable Jews, better known as Trotsky, face to face.
I ended up downloading a digital library that included nine thousand volumes (over 1,400 authors), the best of world literature, a library I now place at the disposal of anyone with enough patience to copy over 20 Gigabytes of information. Incidentally, it was hard to find an off-line application to open the files with in Cuba, but that matter has been resolved.
I am now reading The Man Who Loved Dogs, Leondardo Padura's brilliant novel, and wish to offer it to my compatriots, as I do all other books I downloaded, entirely free of charge. Incidentally, this resident of Mantilla expertly portrayed the youth and part of the adulthood of my generation (which is also his) with a passage in the fifth chapter of this book, a kind of retrospective glance at the past that the men and women who came into the world with the revolution of 1959 often cast:
"It now seems strange to me, almost incomprehensible, how, even though the reality around us was constantly attacking us, many of us lived the period as though in a bubble, a bubble in which we were conserved (or were conserved by others), practically oblivious to the burning pain that people experienced around us, even when close to us."
There is much to be said about this. The twisting roads of history can set off any compass. I recommend reading Padura's book, even if one has no interest in the much talked-about story of Trotsky's murder.
—–
[email protected]