Obama's Cuba Policy Impasse
and the benefits of resolving the Alan Gross Case
Esteban Morales*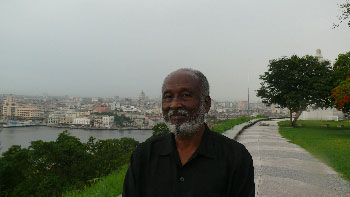 HAVANA TIMES — Though President Obama never promised he would lift the Cuban embargo, he began his first term with a series of bold moves which raised some hopes on the island. Today, he seems to have stopped trying, having hit what appears to be a convenient dead end.
The US President is unable to grasp the difference between the Allan Gross case and the issue of the Cuban Five. Thus, he is spinning yarns, in a situation which, even if the differences between the two cases were objectively recognized, could be resolved without undermining US national security or prestige. Obama, however, is looking at the Gross-Cuban Five problem in a concave mirror, which turns everything upside-down.
Allan Gross was a US mistake. This is something Gross himself, and even his family, recognizes. This is the reason Obama is being held responsible for his imprisonment in Cuba and being pressured to secure his release. The Cuban Five are also a mistake, made, not by Obama, but by the US justice system.
When Obama took the reins, the [Cuban Five] problem had already been created by others. But the Gross problem is something he brought on himself. Obama is thus faced with two mistakes, one others left him and one he made himself.
But he is unable to see the difference between the two and reaches the false conclusion that freeing the Cuban Five would mean demonstrating the sort of weakness that could put US national security in jeopardy.
What Obama has to realize is that Cuba is the one that cannot appear weak in the eyes of the United States. Doing that would, indeed, put its national security at risk. Cuba does not argue with the United States about others who may have been imprisoned for having operated on US soil on Cuba's payroll.
But it insists on challenging the case of the Cuban Five. Why? Simply because Cuba knows very well that the Five were not engaged in any activity that endangers US national security. I think Obama knows this as well. And, if he knows this, he is making a serious mistake.
Particularly when it is so clear that the treatment of the Five, and their convictions in particular, are a stain on US justice. Could it be that they are keeping him in the dark about the Five? If not, then Obama is wrong when he states that freeing the Cuban Five would place US national security at risk.
However, since this is an opportunity to secure the release of Allan Gross and unburden himself of a problem which is increasingly damaging US prestige, and his in particular, the situation is being tackled as a political priority.
As I've hinted at above, it is a complicated issue, but Obama is making a mistake and, at the same time, blowing the alleged "headache" out of proportion, as it has nothing to do with the case of the Five but, rather, as I've already explained, with making a decision with respect to Allan Gross while something can still be done, before it's too late. Because Gross is a man who is more than sixty years old, who suffers the ailments of old age and has endured, for three years now, the emotional strain of being separated from his loved ones.
No, Mr. President, freeing the Cuban Five and delivering Allan Gross to his family safe and sound will not be a headache for the United States, nor will it represent a threat to its national security. What will be a major headache for you will be making the right decision when it's already too late. What political argument could you use to explain things to Gross' family, were this to occur?
That is why Cuba insists on negotiating, on the basis of balanced, humanitarian considerations towards both sides. I am certain Cuba wants the matter to be resolved in good terms, without victory declarations by any side, and without securing any political advantage through such a settlement.
We are talking about people with families, people who suffer, the Five because of the unjust prison sentences they have endured for over 14 years now, Gross because of the U.S. President's inability to understand he is not sacrificing anything (and is in fact gaining much) by acting with intelligence, common sense and objectivity.
What's more, you ought not to forget, Mr. President, that you have turned the Allan Gross case into one of your political priorities vis-à-vis Cuba. If this is still the case, then it is something to reflect upon carefully, in order to settle and not complicate the issue.
Neither should you forget that you traced a political strategy that has now hit a dead end following the twists and turns of a problem which, I say in all honesty, would not be hard to overcome.
Both Cuba and the United States have recently taken steps that may signal that the two are finally ready to understand each other. We'll have to wait and see.
—–
(*) Read Esteban Morales' blog (in Spanish).