On the Three Days of "Free Internet in Cuba"
By Repatriado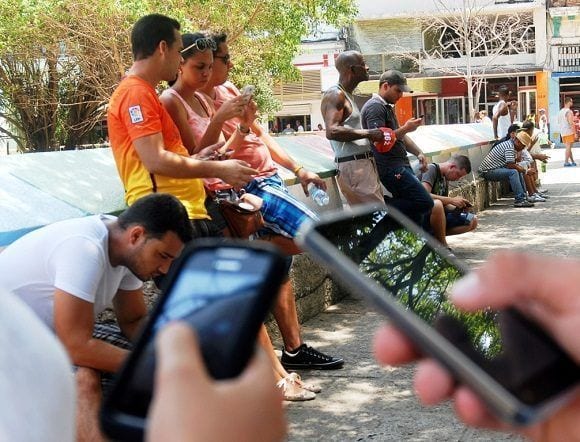 HAVANA TIMES – Cuba's state-controlled telecommunications monopoly, Etecsa, asked for people to comment about their third mobile Internet trial, which involved free surfing using a 100Mb data package which was to be used in 72 hours.
I wanted to find out what people's general opinion was, so I read many of the 1048 comments that had been published up until 18:00 on Etecsa's website on September 11th. I was going to count how many negative comments there were, but to my surprise, negative comments were the overwhelming majority so I chose to count the positive ones instead. When I had already picked out 30 "positive" comments, I read them again because I hadn't really defined what counted as positive.
I realized that I was accepting comments from people who still remained optimistic about this service after the trial, I'll give you some examples:
Alejandro Rodriguez Maestreym said: I thought it was all good, I used both packages and then I had problems because I couldn't sign into my Nauta email account using my mobile data.
yo said: slow connection, uff it was really hard to communicate with anyone, I hope it improves. But like Yaisel Lorenso says, you don't look a gift horse in the mouth.
Florecita said: Hi, I connected in Santa Clara using a Samsung S5, very shaky connection, slow, etc., but it's better than nothing.
The filter I was using was too relaxed I thought, so I focused on hunting out those comments that really did express satisfaction or success. I must say that it was difficult to find them, after scouring through the over thousand comments published, I only found three that were truly positive:
remigio said: Greetings, it all went wonderfully, total access without any interruptions in the service, at last I was able to fulfill my dream of having internet on my phone. I can't complain about Etecsa, I don't know why people say bad things about Etecsa if they don't have a proper phone. I have a Huawei P20 and I didn't have any problems.
yendrys said: very good, the best, if only we always had the internet on our phones.
Carlos Abel said: I connected like a charm! Of course, I have an IPHONE X!! But anyway, the service still needs some tweaks!! !
Taking out the few technical comments on the website, the nearly 1000 remaining comments were like the following:
Arian said: Tachycardia, stress, insomnia, moodiness, despair, a desire to throw the mobile phone, etc., etc., etc…
Manuel said: A total disaster, no internet, no calls and no SMS messages for 72 hours.
Reinaldo Reyes said: It was a disaster, you couldn't send emails, messages came through hours later, I could only connect for a few seconds, I don't think we are ready for this service.
In the face of such a huge disaster, I got in touch with a friend who has been working at the company's headquarters for over 15 years to find out what had happened.
She tells me that the infrastructure they are using is still far from satisfying demand, that even so, there is still an order "from above" that they provide this service because Etecsa is one of the few profitable companies that rakes in huge amounts of foreign currency with its international top-up services, something which they hope will increase with the new service.
In addition to poor infrastructure, she says that delays in implementing this service are a result of the decapitalization that this company is experiencing, whose profits go directly into the Government's coffers and towards censoring dissident websites.
Even though she didn't know how much this service will cost, I have no doubt that it will be one of the most expensive Internet services in the world, as the Cuban government uses the price as its best control over Internet content.