One Hundred Days with Diaz-Canel as Our President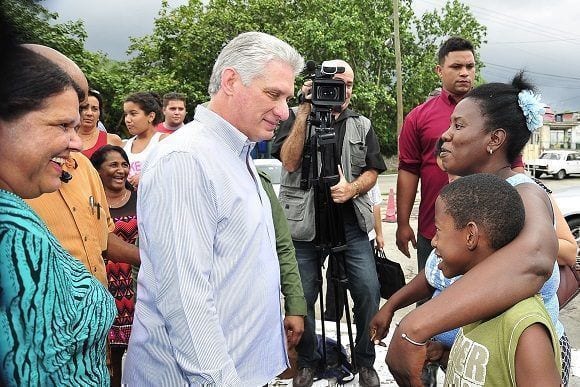 We have to give this humdrum president credit though, he is keeping the only promise he made when he took on this position: that his government would be one of continuity.
By Repatriado
HAVANA TIMES — In the brief time Diaz-Canel has been president of Cuba, there have already been some important signs which tell us about how he is thinking of governing the country.
His absolute lack of personal charisma makes it impossible for him to be populist in a wordy way like Fidel or Chavez and thank God he has enough personal dignity not to try and become an embarrassing loud-mouth like Maduro or a new Christian/Communist in true Ortega-style.
However, he has tried to make up for this shortcoming with an energetic agenda of meetings which people might understand to be executive power and leadership, but unfortunately this kind of government (just as populist as his predecessor) ends up being an empty arrogant gesture that he gives his underlings in a paternalistic way.
One of the flaws of political and economic centralization is that the Head of State needs to know and be the best at everything, something which the late Fidel (the country's leading engineer, doctor, bioengineer, athlete, farmer and astrologist) was well-known for.
We have seen Diaz-Canel giving such sublime guidance on the news like telling cattle breeders that they have to milk cows more to get more milk, telling drivers that they need to drive carefully and scientists that they need to be more intelligent, finishing each and every one of these theatrical meetings with words about the importance of producing more, modernizing the economy and controlling, controlling, controlling.
His closing speech at the recent Cuban Association of Journalists UPEC congress was a first-class rant of the most out-of-date Castrismo, stronghold of the most absolute tropical conservatism where the only change will be his upcoming Twitter account which has been announced for December (?).
There are still the same threatening calls for unity within the Revolution, any slight freedom of speech is blighted, tying journalist's hands even tighter of whom he very insultingly said: they combine their state job with some dabbling in small unofficial digital media platforms "in order to earn a few dollars", the new Ethics Code bans this activity, Cuban journalists are the Homeland's soldiers, and "La patrie, c'est moi".
With regard to the economy, granting licenses again in order to work in a few legal and private professions has been the most important thing. But, licenses will be handed out under an even stricter system, designed to stop anyone from prospering financially which would lead to the creation of a middle class. We will continue to be the country where the most power and wealth is concentrated in few hands, if we don't include Kim's Korea of course.
Referring back to the constitution that is currently being cooked up, they have already warned us that the Communist Party will remain the highest supreme power in society and the State, thereby excluding any window for the slightest bit of democratization. On the other hand, Marti's legacy and the Marxist-Leninist doctrine "won't be abandoned, not for an instant, which make up the main ideological foundation of our Revolution."
So as to make sure nobody gets any funny ideas and thinks that holding citizenship from another country makes you any more safe and independent from the government, they have announced that the Constitution will stipulate that "Cuban citizens, in Cuba, will be governed by this condition and won't be allowed to use their foreign citizenship". It's truly frightening…
His international outlook continues to be the same, standing alongside Cuba's Latin American friends without criticism and without caring about how many citizens they are killing and moving towards Putin more and more, which they moved away from when they thought that Obama was going to open up the US market to them.
We have to give this humdrum president credit though, he is keeping the only promise he made when he took on this position: that his government would be one of continuity. Whether it's because of a lack of political maneuverability, opportunism or personal weakness, any hopes for improvement for a people who desperately need a wake-up call has faded away like mist under the sun of facts. Diaz-Canel has proven that his bosses are mistaken about everything but holding onto power, even if that is indirectly so.