Peons of the Empire: The Other Messages
Erasmo Calzadilla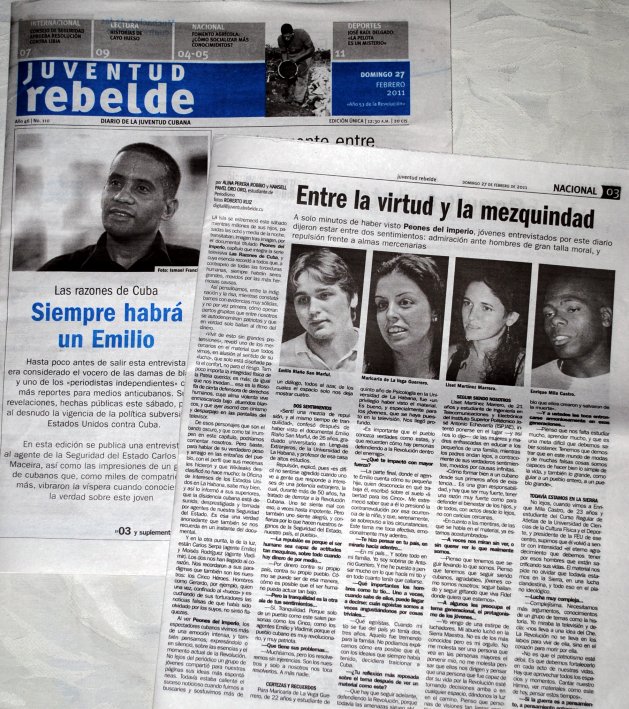 HAVANA TIMES, Feb. 28 – On Saturday night — when there are the most television viewers in Cuba — the most popular channel broadcast the documentary "Peones del Imperio" (Peons of the Empire). In it were presented two Cuban State Security agents who had infiltrated "counterrevolutionary factions" for a long time.
The main message trying to be sent by the documentary is clear and simple: there is no dissident movement in Cuba, and there are no opponents to the regime. All those who act in that manner are in fact mercenaries paid by "the empire."
This notion is obviously absurd. Many people in Cuba are aware of and know people in their own families who are dissidents, opponents or indifferent to the system but who have no relationship with the United States – nor are they paid a dime and they don't want to leave the island.
Likewise, almost everybody knows that it is State Security itself that encourages and organizes these groups, often directing them and then encouraging them to develop closer ties with the US. It's not necessary to explain here how useful the existence of such groups with such ties is for those seeking to maintain the hard line on any dissent.
So if the message is so patently absurd and few people believe it, then what's the reason for the documentary? Why did they decide to blow the cover of these important agents just now? Something big must be at stake.
Keeping in mind that other television programs related to revelations by the agents, at least two public officials jokingly and with impunity admitted on camera to having physically mistreated one of the agents (Carlos Serpa) when he was on the "bad guys" side. Moreover, on several occasions in the documentary they played recorded cellphone calls.
From all this, an idea occurred to me.
I figured that the leadership of the regime perhaps fears the arrival here of a tsunami born in the Arab countries, thus they want to "confuse" people.
Therefore, the other messages that the documentary spread were:
– We are all subject to surveillance.
– They won't question someone who attacks a demonstrator.
– Cell phones aren't safe (one needs only think about how important these have been in the current social upheavals).
– If you're invited to participate in a demonstration, it could be a mercenary or an agent using you.
One friend speculated that the program was trying to obscure the anniversary of the hunger-strike death of political opponent Orlando Zapata.
Other official media sources, such as the daily newspaper Juventud Rebelde, take advantage of all the media-generated commotion to promote "patriotic values" among youth.
In an interview it conducted concerning the revelations, one pretty young woman said: "It doesn't bother me to think that they (Fidel and Raul Castro) lead us. To understand that people who were capable of giving their lives for the revolution are making decisions from above or from anywhere else is something I see as them lighting our way. I think that people with such foresight as Fidel and Raul merit being able to direct the nation that they created and saved from death."
—
Here is the link to the cubadebate.cu report in Spanish about the Cuban State Secturity agents.  It includes links to the TV documentary broadcast.