The Castros and the Hiltons: Shamelessness and Nepotism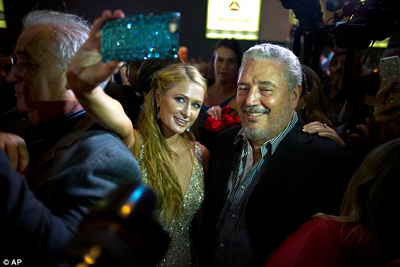 By Martin Guevara*
HAVANA TIMES – What an impressive load of garbage the Cuban revolution ended up being. Its pestilence has surprised even those of us who thought we could expect just about any form of opportunism from it.
The most shameful thing isn't the fact Fidel and Raul Castro are handing the country over to big capital on a silver platter, preventing small and mid-sized Cuban companies from developing and taking those privileged market positions.
As they are finally ditching the last acts of that socialist show they were putting on to deceive the most unconditionally loyal of the lot, they could well allow a new and celebrated business class of Cubans (both on the island and abroad) to lead the change.
The worst, however, isn't this, but the fact they should become friends with the United States – the cradle of innumerable democratic, civic, cultural and world-renowned vanguard values – and that their first guests should be only Paris Hilton and England's Naomi Campbell.
This is not accidental – it is a symbolic gesture that betrays a tendency, a profound and long-held desire, whose realization was postponed while the island was able to live off other patrons.
What a sham the revolution and its leaders have proven to be.
I would love to look at those who would beat their chests and yell "socialism or death!" straight in the eye and question those who would deprive those of us who admired countries in the West for their freedom of expression, plurality and culture. What could they possibly tell us now? That Paris Hilton represents the exploited workers of the United States, that she is a shining beacon of progressive thought or an icon of the counter-culture vanguard?
I won't deny my satisfaction at seeing them gradually reveal their filth, the one they've always harbored and I knew too well, the filth they kept half-hidden. What ideological discourse are they going to use now to keep the obsequious "lefties" (not to be confused with the true Left) in line?
The visit of the US and British luminaries – the militant Naomi Campbell and illustrious Paris Hilton, two tireless champions of civil rights and defenders of the dispossessed, two examples of the best of culture, irreverent, first-class artists, revolutionaries in all aspects we could consider – made me remember a couple of things.
One thing I noticed while looking at the photos of the joyful party attended by Fidel Castro's first-born son and the great-granddaughter of Hilton Hotel founder Conrad Hilton, builder of the Hotel where I stayed for three bitter-sweet years in Havana, is that they both feel proud of their supine uselessness, of being renowned thanks only to the excesses or business ventures of their respective fathers.
The other thing I recalled was that, in Cuba, absolute power, people's lives and deaths, were in the hands of Fidel. The army belonged to his brother Raul, bovine cattle to his brother Ramon and the Federation of Cuban Women to Raul's wife and Fidel's sister-in-law, Vilma Espin, while the fate of nuclear physics on the island was dictated by Paris Hilton's new admirer, Fidel Castro Diaz Balart (son of Fidel).
Today, Cuba's entire baseball franchise is in the hands of another of Fidel's sons, in a short while the army will be under the command of one of Raul's sons and Fidel's nephews and, to top things off, even anti-establishment movements are run by the family: the LGTB community in Cuba is led by Raul's daughter (to be fair, she strikes me as more authentic than the rest. She may have secured the position through her own merit, but she is still Fidel Castro's niece, and we don't know how her work in defense of those most severely marginalized by the male-chauvinism and homophobia of the revolution would have unfolded otherwise, after receiving the first blows for siding with such a deviation from "revolutionary manliness," as her uncle was wont to say).
This is what I was reminded of when I saw Fidel's eldest warmly embracing the useless daughter of another powerful man.
I wonder how many modern or ancient monarchies, dynasties or dictatorships have presented us with such total shamelessness. We may have to go far back in time, to the long-lasting Ching Dynasty, to find a similar degree of nepotism.
—–
(*) Visit Martin Guevara's blog (in Spanish)