The Importance in Cuba of Having a "Lever"
by Alexander Londres  (Progreso Semanal)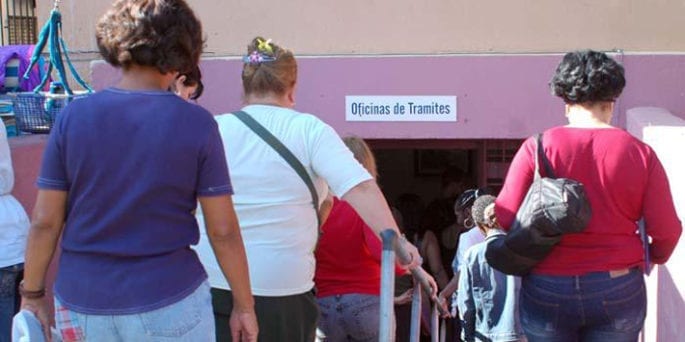 HAVANA TIMES — Maybe for someone living anywhere else in the world, a "lever" has no other meaning other than that of an instrument, a simple mechanic tool used to overcome a resistance force, to move an object, to overcome an obstacle using force.
However, in Cuba, when we talk about a "lever", we are referring to a deeply-rooted social presentation of this tool most of the time – normally a person – who we are able to turn to in times of need to "resolve" what needs resolving without too much havoc, to bypass the well-known and even institutionalized back and forth and long lines.
The unique socio-economic conditions in this country have encouraged this phenomenon to boom over the years. It's a fact that scarcity creates needs which, in turn, puts those in need in a constantly vulnerable position to suffer abuse.
People across the island who don't have family members in management positions, who aren't related to anybody important suffer because they don't form part of this network, protected by the power of "sociolismo" (cronyism) which has infiltrated the marrow of our country. It has transformed a way of acting into common practice which, according to government officials and party organizations which go around repeating this whenever they can, doesn't go hand-in-hand with the values which a "socialist" country like ours should encourage.
Beyond arguing moral viewpoints, or not, which put the "lever's" good judgement at a crossroads to reach a goal, I fervently believe that Cubans who haven't ever used a "lever", are an extinct species or are on their way to becoming extinct, because it's precisely the urgency factor to fix a certain situation which incites people and even forces them to resort to their connections.
Unfotunately, you need to have these "levers" or connections to be able to get medicine on the side when pharmacies no longer have them in stock; to get the medical exams you need to have done when the nurse tells you that there aren't any laboratory reagents; X-rays when you're told that the machine is broken… or just to be able to get a doctor's appointment where you can get the necessary attention.
The reality of this situation is oppressive and raw; you only have to go out onto the street and listen carefully to neighbors, friends, work colleagues, to see what happens when public officials don't do their duty or take their responsibility seriously which society and the government has placed in their hands; when other people's rights and time are being violated, favoring this wrongdoing of influence trafficking, marketing relationships, and establishing it as common practice.
Nevertheless, it might be a good thing that you don't have a chance to make use of a "lever", or even not wanting to resort to this. However, when faced with certain bureaucratic redtape, it really does become a real odyssey – people resort to their connections the most in issues that relate to the Ministry of Justice and the Housing and Physical Planning Institute, at every level.
In order to receive certain public services with the attention and quality they deserve, we realize that we need an acquaintance/ godfather/ a fulcrum; it's hard for even the most conservative people not to imagine just how advantageous it is to have connections, and not exactly the kind that the famous Archimedes asked for so that he could move the world.
There is a saying here in Cuba that comes from popular wisdom which says: the person who has a lever, moves forward. There must be a reason for why they say this, right? However, I don't believe that the best argument is holding onto Machiavelli's philosophy that the ends justify the means, or being a fan of a kind of "easy connecting"; although I myself – and I don't consider myself a conservative or one of those people who enjoy trampling over others just because they can -, every time I find myself stuck with all of the bureaucracy, shortages and daily problems which are so wide-spread in modern Cuban society, I think to myself: How right you were, Archimedes; how easy everything would be, if only I had a "lever"!